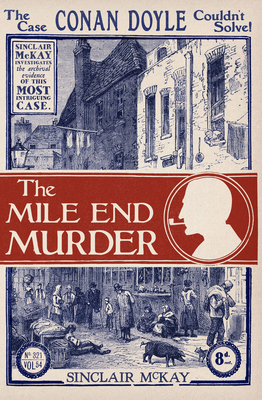 The Mile End Murder (Hardcover)
The Case Conan Doyle Couldn't Solve
Aurum Press, 9781781316436, 320pp.
Publication Date: October 5, 2017
Other Editions of This Title:
Paperback (7/31/2018)
* Individual store prices may vary.
Description
In 1860, a 70 year old widow turned landlady named Mary Emsley was found dead in her own home, killed by a blow to the back of her head.

What followed was a murder case that gripped the nation, a veritable locked room mystery which baffled even legendary Sherlock Holmes author, Arthur Conan Doyle.  With an abundance of suspects, from disgruntled step children concerned about their inheritance and a spurned admirer repeatedly rejected by the widow, to a trusted employee, former police officer and spy, the case led to a public trial dominated by surprise revelations and shock witnesses, before culminating with one of the final public executions at Newgate.

This is the case Conan Doyle couldn't solve and, after confounding the best detectives for years, has finally be solved by author Sinclair McKay. Discover 'whodunit' as the real murderer is revealed for the first time exclusively in this captivating study of a murder case in the nineteenth century, a story never told before.
About the Author
Sinclair McKay is author of the bestselling The Secret Life of Bletchley Park and The Secret Listeners for Aurum Press, as well as histories of Hammer films, the James Bond films, and the pastime of rambling. He lives in London.
Praise For The Mile End Murder: The Case Conan Doyle Couldn't Solve…
'McKay follows a case that gripped and baffled the nation: a genuine locked-room mystery.'
- Britain Magazine
'McKay tells a compelling story, and skillfully weaves into it fascinating threads about Victorian London, with illuminating sketches on such diverse contemporary themes as immigration, the workhouses, the coming gaslight, the temperance movement, and the threat of terrorism. A fascinating book, by turns riveting and unsettling, and wonderfully rich in period detail.'
- Craig Brown, Mail on Sunday
'McKay has penned a highly enjoyable, well-researched and skillfully written tale that will appeal to anyone who has enjoyed the likes of Kate Summerscale's bestselling The Suspicions of Mr Whicher.'
- Real Crime Magazine
'McKay has a deft eye for the details.'
- BBc History Magazine
"the East End of 150 years ago becomes almost tangible, and the grim story is compellingly told"
- Roger Johnson, The Sherlock Holmes Journal
 'This tale of crime and police incompetence is told in lurid detail.'
- The Times
'In spite of the wealth of background detail, this book reads like the best murder mystery and is difficult to put down. It now has a satisfactory end, because after 150 years Sinclair McKay has found the identity of the real murderer, although he leaves the reader guessing until the very end. An excellent, true murder case which is well worth reading. I have no hesitation in recommending it.'
- Breakaway Reviewers
'A real death that has all the hallmarks of a classic murder mystery: the locked room, the multitude of likely suspects, the dramatic discoveries. And more than 150 years later, McKay claims to have solved it.' 
- History Revealed