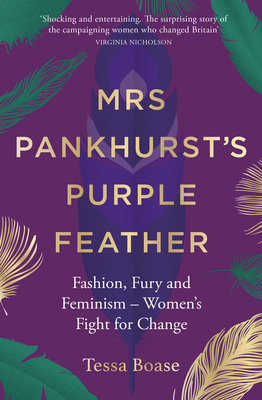 Mrs Pankhurst's Purple Feather (Hardcover)
Fashion, Fury and Feminism -- Women's Fight for Change
Aurum Press, 9781781316542, 336pp.
Publication Date: June 5, 2018
Other Editions of This Title:
MP3 CD (8/14/2018)
* Individual store prices may vary.
Description
'Shocking and entertaining. The surprising story of the campaigning women who changed Britain.' Virginia Nicholson

'Full of fascinating historical detail and colourful characters… A great story, beautifully told.' Kate Humble

When Mrs Pankhurst stormed the House of Commons with her crack squad of militant suffragettes in 1908, she wore on her hat a voluptuous purple feather. This is the intriguing story behind that feather.
 
Twelve years before the suffragette movement began dominating headlines, a very different women's campaign captured the public imagination. Its aim was radical: to stamp out the fashion for feathers in hats. Leading the fight was a character just as heroic as Emmeline Pankhurst, but with opposite beliefs. Her name was Etta Lemon, and she was anti-fashion, anti-feminist – and anti-suffrage.
 
Mrs Lemon has been forgotten by history, but her mighty society lives on. Few, today, are aware that Britain's biggest conservation charity, the RSPB, was born through the determined efforts of a handful of women, led by the indomitable Mrs Lemon. While the suffragettes were slashing paintings and smashing shop windows, Etta Lemon and her local secretaries were challenging 'murderous millinery' all the way up to Parliament.
 
This gripping narrative explores two singular heroines – one lionised, the other forgotten – and their rival, overlapping campaigns. Moving from the feather workers' slums to the highest courtly circles, from the first female political rally to the first forcible feeding, Mrs Pankhurst's Purple Feather is a unique journey through a society in transformation.
 
This is a highly original story of women stepping into the public sphere, agitating for change – and finally finding a voice.  
About the Author
Tessa Boase read English at Oxford, and has worked as a scriptwriter, a voiceover artist and an editor at The Daily Telegraph and Daily Mail. As a freelance journalist she has contributed to a wide variety of publications. Her first book, The Housekeeper's Tale, was published by Aurum in 2014. 
She is married with children and lives between St Leonards on Sea, and Lazio, Italy. 
Praise For Mrs Pankhurst's Purple Feather: Fashion, Fury and Feminism -- Women's Fight for Change…
"A provocative and illuminating read… by turns fascinating and horrifying."
- Country Life
"Riveting, dextrously told, vividly imagined, shrewdly analysed. Tessa Boase has worked a little bit of magic here in bringing these [women] to life, and championing the cause of the unsung"
- British Birds
"Full of fascinating historical detail and colourful characters. A great story of pioneering conservation, beautifully told."
- Kate Humble
"Brilliantly conceived. For although neither of Boase's convention-shucking heroines had a jot of sympathy with the other's cause, the consequences of their campaigns for progress dovetailed in a dazzling arc."
- The Daily Telegraph
"Boase has chosen a fascinating and much neglected subject and explored it brilliantly. The characters on both sides come vividly to life, and what she uncovers through her research into working conditions in the fashion trade is truly shocking. It is a shameful story, and one that needs to be known. She deserves high praise for bringing it to light."
- Professor John Carey
"A vividly written, deeply researched, surprising book… Fascinating untold stories – a feather in the cap of this journalist author."
- Saga Magazine
'The story of the RSPB is just one of many layers in Mrs Pankhurst's Purple Feather… Boase skilfully interweaves the fate of the South American macaw, the huia bird of the New Zealand, the African marabou stork, the snowy egret and the Indian green parrot with the story of women's suffrage ... The relationship between the two groups is profoundly interesting - their similarities, their differences and the public reception of their spirited attempts to bring change.'  
- Constance Watson, The Oldie
"Truly eye-opening… Boase presents us a great gift in this book; the opportunity for correction to a host of historical oversights, misunderstandings, and in the case of Etta Lemon, seemingly intentional erasures – we would be wrong not to accept it with gratitude."
- The Well-Read Naturalist
 'A resolutely feminist work of scholarship, recovering numerous women often overlooked by more conventional suffrage narratives.'
- Times Literary Supplement
 
"Shocking, frequently funny and full of unexpected information."
- Literary Review
 
"Enthralling. In the centenary year of the Representation of People Act, this book reminds us that women fought other campaigns too."
- Who Do You Think You Are?