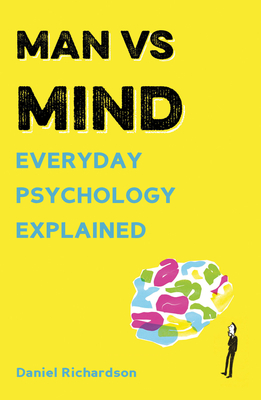 Man vs Mind (Paperback)
Everyday Psychology Explained
Aurum Press, 9781781316702, 224pp.
Publication Date: March 6, 2018
* Individual store prices may vary.
Description
Where do our thoughts come from?
Do we all see the same blue?
And how much is our eye really like a camera?

The mind is the tool that sets humans apart from the rest of the animal kingdom, and the most crucial part of our very being – but what actually is it? From trying to decide whether or not we're robots, understanding why some people commit acts of violence, to figuring out the art of persuasion; this essential guide to the inner workings of our minds explores the questions we really want to know the answers to. Making the complex comprehensible, this informative book provides a new insight into how our minds work and the role they play in modern life. Whether it's pondering over why you're usually right about everything, or discovering colour; Man vs Mind shows that you don't need to be a psychologist to understand more about what's going on up there!
About the Author
Daniel Richardson is a Reader in Experimental Psychology at University College London. Prior to that, he was an undergraduate at Magdalen College, Oxford, a graduate student at Cornell, a postdoctoral researcher at Stanford, and an assistant professor at the UC Santa Cruz. His research examines how individuals' thought processes are related to the people around them. He has authored many scientific articles in cognitive, developmental and social psychology. He received two Provost's Teaching Awards from UCL, and has performed shows at the London Science Museum and Bloomsbury theatre combining science, music and live experiments on the group mind of the audience.  
or
Not Currently Available for Direct Purchase