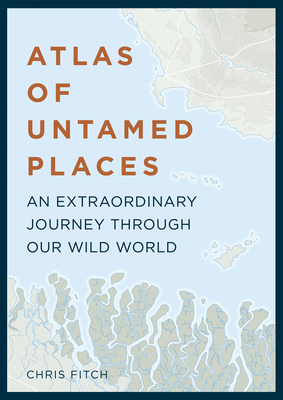 Atlas of Untamed Places (Hardcover)
An extraordinary journey through our wild world
Aurum Press, 9781781316771, 208pp.
Publication Date: September 28, 2017
* Individual store prices may vary.
Description
With beautiful, unique maps and evocative photography, Atlas of Untamed Places is an intrepid voyage to nature's wildest places. 

In a world that has increasingly become tamed by human activity, the true wild holds a growing mysticism. Rugged landscapes with unspoilt scenery invoke romantic visions of paradise, but there are also intense and powerful wildernesses that produce fear and awe alike and unexplored zones where feral wildlife roams in the shadows.
 
Chris Fitch takes you on a journey through the world's most wild places, visiting immensely diverse floral kingdoms, remote jungles abundant with exotic birds, and both freezing cold and scorching hot inhospitable environments. From these natural havens we travel to the extreme and the incredible: lightning inducing lakes, acidic mud baths, and man-eating tiger kingdoms.
 
We encounter places being reclaimed by nature, such as Chernobyl, that after being left abandoned for years are returning to a natural wilderness, free from human intervention. Not forgetting those most bizarre of destinations, such as the tidal surges of the Qiantang River, the bridge to Modo Island that emerges from the sea, and the strange magnetic pull of Jabuka rock.

Also in the Unexpected Atlas series: Atlas of Improbable Places, Atlas of the Unexpected, Atlas of Vanishing Places.
About the Author
Chris Fitch is senior staff writer at Geographical, the official magazine of the Royal Geographical Society (with IBG), and author of Atlas of Untamed Places: An extraordinary journey through our wild world, nominated for the 2018 Edward Stanford Travel Writing Award.
Praise For Atlas of Untamed Places: An extraordinary journey through our wild world…
'John Muir, Henry David Thoreau, William Wordsworth and Theodore Roosevelt would undoubtedly have been breathless in their breeches to be able to join Fitch on this stupendous feat to faraway haunts and far-out hideaways: remote jungles, acidic mud baths, rollicking rivers, below-zero-degree terrains, parching hot deserts. Layered with maps and photography, this ambitious atlas is an intrepid traveler's flashlight to scores of OMG oddities, exotic escapes, bizarre lairs, extreme environments, untouched lands, weird customs and isolated regions. Not up for mountain climbing or down for handling desert heat? Armchair travelers will be attentive as well, grateful that Fitch has done the heavy lifting to shed light on these amazements.'
- Forbes
This is a travel book like no other. Expect to find brief, but compelling descriptions of each location, unusual maps, and interesting photography.
- Best Vacations Journal
Illustrated with clear maps and black and white photography, it is an atlas of destinations so remote, rugged and bizarre that many chapters could be describing locations on alien planets.
- www.robinesrock.com
'A beautiful and very readable book. I read it at a sitting.'
- Robin Hanbury-Tenison, explorer