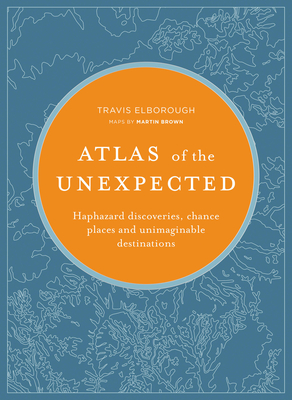 Atlas of the Unexpected (Hardcover)
Haphazard discoveries, chance places and unimaginable destinations
White Lion Publishing, 9781781317167, 208pp.
Publication Date: November 6, 2018
* Individual store prices may vary.
Description
"Travis Elborough writes about a wide range of subjects with originality, learning and charm. Atlas of the Unexpected...is seductively beautiful: an inspiring, dream-inducing guide to almost four dozen "haphazard discoveries, chance places and unimaginable destinations"..." David Kynaston, New Statesman – 'best books of 2018' 

In 45 beautiful, unique maps and with evocative photography, Atlas of the Unexpected is a journey to far-off lands, obscure discoveries and unimaginable locations.   

From the fortuitous discovery of the Dead Sea scrolls by a stray goat, to the wonderfully bizarre beginnings that led to the aptly named Just Enough Room Island and even the royal romance that led shipwrecked lovers to discover Madeira, Travis Elborough takes you on a voyage to some of the world's most wondrous, improbable and – most of all – unexpected of places.
About the Author
Travis Elborough is an author and social commentator. His books include A Traveller's Year, A London Year, The Long-Player Goodbye, Being A Writer and A Walk in the Park: The Life and Times of a People's Institution. Travis is a regular contributor to Radio 4 and the Guardian, and has penned articles on all aspects of travel and culture, from pirates in the Caribbean to donkeys at the British seaside. He has written for the Times, Sunday Times, New Statesman, BBC History Magazine and Kinfolk among others.
Praise For Atlas of the Unexpected: Haphazard discoveries, chance places and unimaginable destinations…
"British author Travis Elborough's new Atlas of the Unexpected: Haphazard Discoveries, Chance Places and Unimaginable Destinations features dozens of locations with potential to excite the interest of even the most jaded traveller....the writer's nose for detail and knack for storytelling make for first-class armchair travel."  
- South China Morning Post
"Travis Elborough writes about a wide range of subjects with originality, learning and charm. Atlas of the Unexpected...is seductively beautiful: an inspiring, dream-inducing guide to almost four dozen "haphazard discoveries, chance places and unimaginable destinations"..." David Kynaston, New Statesman best books of 2018
- David Kynaston, New Statesman