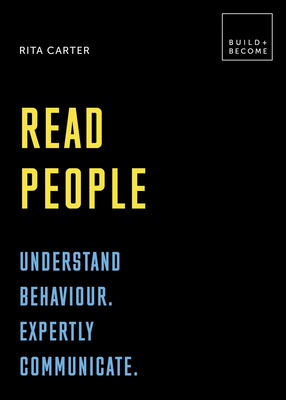 Read People (Hardcover)
Understand behaviour. Expertly communicate: 20 thought-provoking lessons (BUILD+BECOME)
Aurum Press, 9781781317310, 160pp.
Publication Date: May 3, 2018
* Individual store prices may vary.
Description
Can you spot a lie?

Using a unique, visual approach to explore the science of behaviour, Read People shows how understanding why people act in certain ways will make you more adept at communication, more persuasive and a better judge of the motivations of others.

The increasing speed of communication in the modern world makes it more important than ever to understand the subtle behaviours behind everyday interactions. In 20 dip-in lessons, Rita Carter translates the signs that reveal a person's true feelings and intentions and exposes how these signals drive relationships, crowds and even society's behaviour. Learn the influencing tools used by leaders and recognise the fundamental patterns of behaviour that shape how we act and how we communicate.

At Build and Become we believe in building knowledge that helps you navigate your world. Our books help you make sense of the changing world around you by taking you from concept to real-life application through 20 accessible lessons designed to make you think. Create your library of knowledge. For further information on Build&Become, follow us on Instagram, Twitter and Facebook
About the Author
Rita Carter is an award-winning medical and science writer, lecturer and broadcaster who specialises in the human brain: what it does, how it does it, and why. She is the author of Mind Mapping and has hosted a series of science lectures for public audience. Rita lives in the UK.