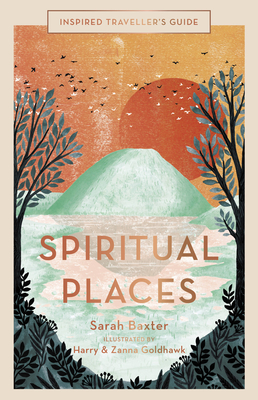 Spiritual Places (Inspired Traveller's Guides) (Hardcover)
Aurum Press, 9781781317426, 144pp.
Publication Date: March 1, 2018
* Individual store prices may vary.
Description
From the manmade splendour of the Easter Island Statues in the Pacific Ocean, to the medieval pilgrimage of Camino de Santiago that stretches to Spain, discover places that will be a balm to the mind and a tonic to the soul. 

Travel journalist Sarah Baxter has carefully curated a selection of the 25 most spiritual destinations from around the world – places that hold the promise of rare and profound experiences, whether areas of natural beauty imbued with spiritual significance or sites constructed for worship. From breathtaking scenery to religious capitals, sacred valleys to places of natural beauty, here the full spiritual story and unique tranquillity of each place is revealed with beautiful hand-drawn illustrations and evocative tales of previous visitors that will both delight and inspire.

Perfect for those who want to get away from it all, this book takes you closer to these sacred locations than ever before.
About the Author
Sarah Baxter is a respected British author and journalist with extensive media contacts. She was Associate Editor of Wanderlust magazine, the bible for independent-minded travellers, for more than ten years and has written extensively on walking and travel for a diverse range of other publications, including the Guardian, the Telegraph, and the Independent. Sarah has also contributed to more than a dozen Lonely Planet guidebooks.
Husband and wife team Harry and Zanna Goldhawk met at university while studying illustration. After many late nights in the studio they discovered a shared love of nature and color that sparked many collaborative projects.

Harry and Zanna founded Pappio Press to give their main passion: beautiful animal illustration. The Pappio Press products are designed in house by Harry or Zanna (or both!). Both work hard to make sure that all the artwork they create tells its own unique and beautiful story, with gorgeous botanicals and characteristic animals. We like to think that this is what makes our products so special and covetable.