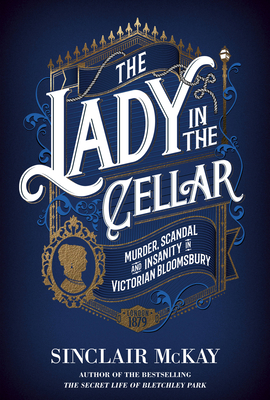 The Lady in the Cellar (Hardcover)
Murder, Scandal and Insanity in Victorian Bloomsbury
White Lion Publishing, 9781781317983, 320pp.
Publication Date: October 30, 2018
Other Editions of This Title:
MP3 CD (5/1/2019)
Compact Disc (5/1/2019)
* Individual store prices may vary.
Description
'Gripping, gothic and deeply poignant' Mail on Sunday

Standing four storeys tall in an elegant Bloomsbury terrace, number 4, Euston Square was a well-kept, respectable boarding house, whose tenants felt themselves to be on the rise in Victorian London. But beneath this genteel veneer lay a murderous darkness. For on 9th May 1879, the body of a former
resident, Matilda Hacker, was discovered by chance in the coal cellar. The ensuing investigation stripped bare the dark side of Victorian domesticity, revealing violence, sex and scandal, and became the first celebrity case of the early tabloids.

Someone must have had full knowledge of what had happened to Matilda Hacker. For someone in that house had killed her. So how could the murderer prove so elusive?

In this true story, Sinclair McKay meticulously evaluates the evidence and, through first-hand sources, giving a gripping account that sheds new light on a mystery that eluded Scotland Yard.
About the Author
SINCLAIR MCKAY is the bestselling author of The Secret Life of Bletchley Park, The Lost World of Bletchley Park, The Secret Life of Fighter Command and The Secret Listeners for Aurum, as well as histories of Hammer films, the James Bond films and the pastime of rambling. He lives in London. 
Praise For The Lady in the Cellar: Murder, Scandal and Insanity in Victorian Bloomsbury…
'A fascinating book, by turns riveting and unsettling, and wonderfully rich in period detail.' (Mile End Murder)
- Craig Brown, Mail on Sunday
'meticulously researched book'  (The Lady in the Cellar) 
- Brian Viner, Daily Mail
'With the gusto of a penny dreadful, The Lady in the Cellar dodges any stodgy courtroom testimony that can weigh down true crime stories and sticks to the juicy details. It is hard to avoid the comparison with Kate Summerscale's The Suspicions of Mr Whicher and it has similar historical richness and plot twisting…'
- The Spectator
'Painstakingly researched and fascinating as his bestselling The Secret Life of Bletchley Park, and an essential companion to it' (The Secret Listeners)
- Daily Mail
'I found this a truly breathtaking, eye-opening book.' (The Secret Life of Bletchley Park)
- A.N Wilson
'Gripping, gothic and deeply poignant' (The Lady in the Cellar) 
- The Mail on Sunday
'As he has proved before, Sinclair McKay has no peers when it comes to the history of Bletchley Park – and its aftermath. Lucid, well-researched and rich in detail, The Spies of Winter is a valuable addition to the genre.'  (The Spies of Winter)
- Daily Mail
'Tale of crime and police incompetence is told in lurid detail.' (Mile End Murder)
- James Marriot, The Times
'Sinclair McKay is an accomplished and talented author with a rare skill... True crime fans and history buffs will enjoy this book, coming away with an enthralling true crime story and a new knowledge and understanding of Victorian London.'
- Crime Traveller