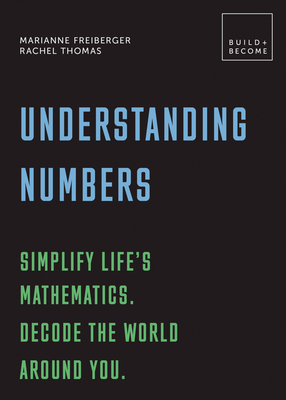 Understanding Numbers (Paperback)
Simplify life's mathematics. Decode the world around you.: 20 thought-provoking lessons (BUILD+BECOME)
White Lion Publishing, 9781781318157, 160pp.
Publication Date: April 9, 2019
* Individual store prices may vary.
Description
"Simple, clear explanations of twenty ways in which mathematics helps us to understand practical issues of everyday life. Suitable for teenagers and adults, and beautifully produced. Highly recommended!" - Professor Ian Stewart, bestselling author of The Cabinet of Mathematical Curiosities

Mathematics is an indispensable tool for life. From the systems that underpin our newsfeeds, through to the data analysis that informs our health and financial decisions, to the algorithms that power how we search online – mathematics is at the heart of how our modern world functions.
In 20 dip-in lessons, Understanding Numbers explains how and why mathematics fuels your world and arms you with the knowledge to make wiser choices in all areas of your life.
• Make sense of health statistics
• Understand the mathematics behind political voting systems
• Get to grips with how online search tools work
• Discover how mathematics can create the perfect city
About the Author
Rachel Thomas and Marianne Freiberger are the editors of Plus magazine, which publishes articles from the world's top mathematicians and science writers on topics as diverse as art, medicine, cosmology and sport. 

Before joining Plus in 2001, Rachel was a math consultant in Australia working for government and industry. She recently edited the Gazette of the Australian Mathematical Society and has developed and taught science writing workshops for graduate students. She also created mathematical walking tours of London and Oxford and a virtual mathematical tour guide of the world for Maths in the City. Rachel obtained her MSc in Semigroup Theory in 1998 from the University of Western Australia.

Marianne joined Plus in 2005 after completing a PhD and then a three year postdoc at Queen Mary, University of London. As a researcher she worked in complex dynamics and held various teaching engagements. In the world of math communication she has been Editor-in-Chief of the Mathscareers website and sometimes gives presentations to mathematicians about how to communicate their work to a wider audience, and to journalists about how to deal with math in the media.
Praise For Understanding Numbers: Simplify life's mathematics. Decode the world around you.: 20 thought-provoking lessons (BUILD+BECOME)…
"Simple, clear explanations of twenty ways in which mathematics helps us to understand practical issues of everyday life. Suitable for teenagers and adults, and beautifully produced. Highly recommended!"
- Professor Ian Stewart