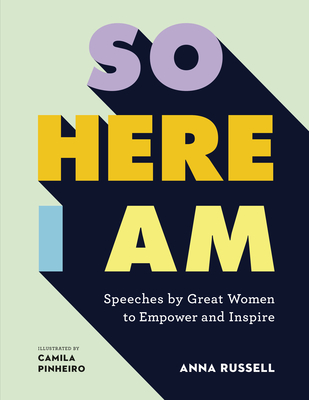 So Here I Am (Hardcover)
Speeches by great women to empower and inspire
White Lion Publishing, 9781781318270, 176pp.
Publication Date: February 5, 2019
* Individual store prices may vary.
Description
Discover the inspiring voices that have changed our world, and started a new conversation.  
 
The first dedicated collection of seminal speeches by women from around the world, So Here I Am is about women at the forefront of change – within politics, science, human rights and media; discussing everything from free love, anti-war, scientific discoveries, race, gender and women's rights.

From Emmeline Pankhurst's 'Freedom or Death' speech and Marie Curie's trailblazing Nobel lecture, to Michelle Obama speaking on parenthood in politics and Black Lives Matter co-founder Alicia Garza's stirring ode to black women, the words collected here are empowering, engaging and inspiring. 

With powerful illustrations from Camila Pinheiro, this anthology of outspoken women throughout history is essential reading for anyone who believes that change is not only possible, it is necessary. 
About the Author
Anna Russell is an editor and writer for "The Talk of the Town" section at The New Yorker. She was previously the arts and culture correspondent for The Wall Street Journal in London, and has worked under several other publications, including Condé Nast Traveler, Newsweek, and The New York Daily News. She studied English literature at New York University.
Camila Pinheiro is an illustrator, artist, and mother living in São Paulo, Brasil. She studied fashion and design in São Paulo, and worked for Dior and several agencies before opening her own studio. Her influences range from Magritte, Matisse and Mondrian to Alexander Girard.