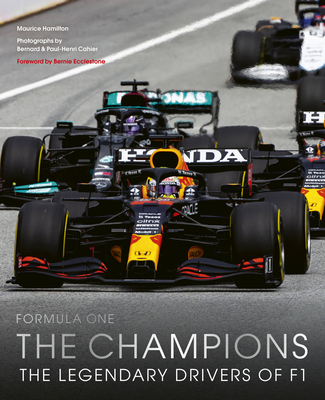 Formula One
The Champions: 70 years of legendary F1 drivers
Hardcover

* Individual store prices may vary.
Description
Bask in Formula One glory with this 240-page, large-format tribute to all 34 F1 World Champions, featuring exhilarating photography and expert commentary.
Since the Grand Prix's start in 1950, just 34 men have achieved the accolade of F1 World Champion. For the first time,
legendary F1 commentator Maurice Hamilton
and
award-winning photographers Bernard and Paul-Henri Cahier
bring the heroes of this iconic sport together, in a stunning photographic portrayal of the poise, skill and winning mindset that separates the fast from the furious, the elite from the talented.
Formula One and its champions are
brought to life with:
An exquisitely written profile of each of the 34 F1 World Champions, with key details from the driver's life and F1 career
Stunning photography of the drivers and their cars, both on and off the track
Historic interviews with the sport's lost heroes, including James Hunt and Ayrton Senna
Exclusive quotes from icons such as Max Verstappen, Lewis Hamilton and Nico Rosberg
A foreword by Bernie Ecclestone, former chief executive of the Formula One Group
Debate has raged over
which driver is the best of the best
. It is impossible to say. But that will not deter energetic and informed discussion, usually predicated on a personal preference swayed by affection. Each of these champions will have experienced and delivered
pulse-raising performances
many times over.  
With this handsome homage to the most ferocious of sports and the incredible sportsmen who drive at the edge in pursuit of greatness, it is time to
choose your favorite F1 Champion
.
Praise For Formula One: The Champions: 70 years of legendary F1 drivers…
'The old adage that a picture is worth a thousand words certainly applies here. With Hamilton's profiles being succinct, it allows the iconic Cahier Archive – built by Bernard and his son Paul-Henri – to come to the forefront and leave a lasting impression on the reader... Hamilton and the Cahier Archive have combined again to create a statement piece which would be a very worthy addition to your Formula 1 collection. 4/5 – Highly recommended.'—PlanetF1

'The redoubtable scribe Maurice Hamilton explores every single one of those 33 remarkable people in his latest work... for this he has teamed up with father and son Bernard and Paul-Henri Cahier of the Cahier Archive Photographic Collection. The trio is well-placed to take on the task... it all ensures that in this book each champion receives a lavish portrait in words and pictures. 
Great value and highly recommended.'—Motorsport News

'Fine writing is complemented by great imagery provided by Paul-Henri and Bernard Cahier.'—Motorsport magazine

'This is a book that once opened, you will not want to put down until you have thumbed through all 240 pages.'—Our man behind the wheel

"A must-have for anyone interested in the stories of Formula One drivers, their professional lives and racing careers."—Bruce Herrington, PANDO Magazine
White Lion Publishing, 9781781319468, 240pp.
Publication Date: March 3, 2020
About the Author
Maurice Hamilton has been part of the Formula One scene since 1977 and was the Observer's motor racing correspondent for 20 years. He has written more than 20 books as well as commentating on Formula One for BBC Radio. He is now actively involved with the online community on Twitter and writes several blogs whilst continuing to write books about racing. 
Once described as the 'Cartier-Bresson of Motor Racing' due to his uncanny ability to capture key moments, Bernard Cahier was a renowned photo-journalist. Starting in 1952, he covered both F1 and sports car races for innumerable magazines around the world and sometimes even raced himself, notably at Sebring and in the Targa Florio. He founded the IRPA (International Racing Press Association) in 1968 and remained its president until his retirement in 1985.
The Cahier Archive is the only photographic collection covering the history of the Formula One Championship to have remained in the hands of its original authors. Two photographers have built this archive: Bernard Cahier and his son Paul-Henri, giving the collection two very different styles. Bernard was a reporter and had the gift to make people truly live events through his pictures. Paul-Henri, on the other hand, has always leaned towards an artistic approach to photography. The common ground of their photos though, is that they always go beyond the illustrative dimension.
Bernie Ecclestone is the former chief executive of the Formula One Group, which manages Formula One and controls the commercial rights to the sport.