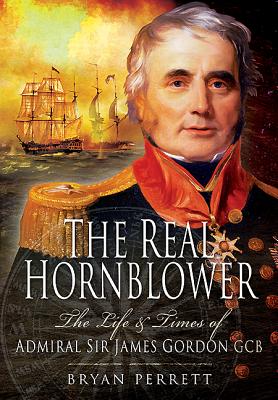 The Real Hornblower
The Life and Times of Admiral Sir James Gordon
Paperback

* Individual store prices may vary.
Other Editions of This Title:
Paperback (11/18/2014)
Description
First published in 1997, this timely release offers a comprehensive and engaging account of the life and times of this great naval Admiral. Ever since C.S. Forester's fictional hero Horatio Hornblower began to delight and enthrall readers, there has been speculation as to whether his adventures were based on the career of a real naval officer. Several names were suggested; the general conclusion was that Hornblower was a composite character. However, while researching the campaign that resulted in the burning of Washington's public buildings, Bryan Perret consulted Forester's Naval War of 1812 and was surprised to discover that the author had been deliberately reticent regarding a Captain James Alexander Gordon, RN, who had led his squadron up the Potomac. Further inspection of naval records revealed a startling number of parallels between the careers of Gordon and Hornblower. Subsequent research spanning a period of ten years uncovered yet more similarities - too many, in fact, to be a matter of simple coincidence. It became apparent that, while Forester certainly included other episodes in the Hornblower cycle, he was aware of Gordon when the first of his books were written, and that when he decided to expand the series he chose Gordon's career as the framework on which his hero's life would be based. As a professional author, it was neither surprising that he should conceal the fact, nor that he should choose Gordon as his model. Gordon had entered the Royal Navy as a semi-literate eleven-year-old and rose to become Admiral of the Fleet. He took part in major sea battles, frigate actions, single-ship duels and operations far behind enemy lines. It was the fire of his ships, directed against Fort McHenry, Baltimore that inspired the National Anthem. He was the last Governor of the Royal Naval Hospital at Greenwich, and when he died, having served for more than seventy-five years in the Navy, The Times commented that he was' the last of Nelson's captains'. That he should have attracted Forster's attention is not, therefore, surprising. In telling the largely unknown story of Admiral Gordon's active service career, Bryan Perrett has produced a book that will be appreciated by the thousands of readers who have enjoyed the adventures of Horatio Hornblower and his successors. It will also be welcomed by anyone with an interest in the naval warfare of the Napoleonic era, while those who take pleasure in biography will find that they have the added bonus of an absorbing literary and historical detective story. Praise for 'The Real Hornblower' 'It is enthralling and humbling to read about such men...' - Mail on Sunday 'This is a fascinating and engaging written account of a little known story which is sure to interest historians and fans of Forester alike' - Aberdeen Press and Journal 'Perrett has made a good case that these overlays are more than coincidence and that Forester consciously used this fine officer's career as inspiration' - Time, Greenwich CT, USA 'An interesting and well written book of which C.S. Forester would surely have approved' - The Nautical Magazine.
Pen & Sword Books, 9781781591956, 160pp.
Publication Date: September 15, 2013
or
Not Currently Available for Direct Purchase