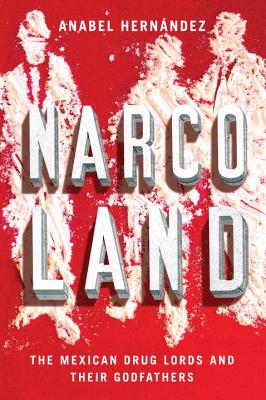 Narcoland
The Mexican Drug Lords and Their Godfathers
Hardcover

* Individual store prices may vary.
Other Editions of This Title:
Paperback, Spanish (3/24/2020)
Paperback (9/9/2014)
Description
The product of five years investigative reporting, the subject of intense national controversy, and the source of death threats that forced the National Human Rights Commission to assign two full-time bodyguards to its author, Anabel Hernandez, "Narcoland" has been a publishing and political sensation in Mexico.
The definitive history of the drug cartels, "Narcoland" takes readers to the front lines of the war on drugs, which has so far cost more than 60,000 lives in just six years. Hernandez explains in riveting detail how Mexico became a base for the mega-cartels of Latin America and one of the most violent places on the planet. At every turn, Hernandez names names not just the narcos, but also the politicians, functionaries, judges and entrepreneurs who have collaborated with them. In doing so, she reveals the mind-boggling depth of corruption in Mexico's government and business elite.
Hernandez became a journalist after her father was kidnapped and killed and the police refused to investigate without a bribe. She gained national prominence in 2001 with her exposure of excess and misconduct at the presidential palace, and previous books have focused on criminality at the summit of power, under presidents Vicente Fox and Felipe Calderon.
In awarding Hernandez the 2012 Golden Pen of Freedom, the World Association of Newspapers and News Publishers noted, Mexico has become one of the most dangerous countries in the world for journalists, with violence and impunity remaining major challenges in terms of press freedom. In making this award, we recognize the strong stance Ms. Hernandez has taken, at great personal risk, against drug cartels.
Praise For Narcoland: The Mexican Drug Lords and Their Godfathers…
"An ambitious and daring sketch of the political nexus that ensures the Mexican system of narcotics delivery to the U.S." —LA Times 

"A definitive work on Cartel history." —Pop Matters


"Narcoland, with its explosive descriptions of decades of corruption permeating the upper echelons of government, leaves an extremely bad taste in the reader's mouth about the state of Mexico's perennially corrupt institutions – and begs the question: how much has changed? For Narcoland, Anabel Hernandez spent five years combing police, court and US papers, securing access to informers and sources and pursuing often fruitless requests for official files. The result is a searing indictment of a war on drugs." —Financial Times
"Anabel Hernandez exposes the most murderous drug organization in Mexico, the Mexican government. Of course, this level of corruption is only possible thanks to the moral and financial support of the leaders in Washington." —Charles Bowden, author of Murder City: Ciudad Juárez and the Global Economy's New Killing Fields


"What I appreciate in Anabel is not only her courage, it is her overall view that is so rare to find. In a country like Mexico, which has a deeply compromised democracy, the strength of reporters who assess these important issues is ultimately their attempt to save their democracy. While nailing politicians to their responsibilities, Anabel transforms her pages into an instrument for readers, an instrument of democracy." —from the Foreword by Roberto Saviano, author of Gomorrah

"Hernández's investigation into corruption … traces the collusion of government, law enforcement, and military figures with the narcos back at least to the 1970s … Her book has sold over 170,000 copies in Mexico and she now lives protected by bodyguards."
Enrique Krauze, author of Mexico: Biography of Power, in The New York Review of Books


"Indispensable reading for anyone who wants to understand the origins of the violence … An extraordinary book for making the necessary journey to our heart of darkness."—Letras Libres (Mexico)

"In this brave work, the author argues that from the presidency of Gustavo Díaz Ordaz (1964–1970), all of Mexico's rulers have maintained close relations with groups that import, export, and sell illegal drugs."—La Jornada
Verso, 9781781680735, 362pp.
Publication Date: September 10, 2013
About the Author
Anabel Hernandez is one of Mexico s leading investigative journalists, writing about slave labor, sexual exploitation, political corruption, organized crime and drug cartels. In 2012, she was presented with the Golden Pen of Freedom in Ukraine by the World Association of Newspapers and News Publishers, and in 2014 she received the Hans Verploeg Memorial Fund Award in Amsterdam for journalistic heroism."
or
Not Currently Available for Direct Purchase