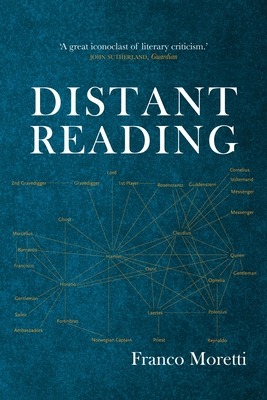 Distant Reading (Paperback)
Verso, 9781781680841, 224pp.
Publication Date: June 4, 2013
Other Editions of This Title:
Hardcover (6/4/2013)
* Individual store prices may vary.
Description
WINNER OF THE NATIONAL BOOK CRITICS CIRCLE AWARD 

How does a literary historian end up thinking in terms of z-scores, principal component analysis, and clustering coefficients? The essays in Distant Reading led to a new and often contested paradigm of literary analysis. In presenting them here Franco Moretti reconstructs his intellectual trajectory, the theoretical influences over his work, and explores the polemics that have often developed around his positions.

From the evolutionary model of "Modern European Literature," through the geo-cultural insights of "Conjectures of World Literature" and "Planet Hollywood," to the quantitative findings of "Style, inc." and the abstract patterns of "Network Theory, Plot Analysis," the book follows two decades of conceptual development, organizing them around the metaphor of "distant reading," that has come to define—well beyond the wildest expectations of its author—a growing field of unorthodox literary studies.
About the Author
Franco Moretti teaches English and Comparative Literature at Columbia University. He is the author of Signs Taken for Wonders, The Way of the World and Modern Epic, all from Verso.
Praise For Distant Reading…
"One of the most daring and intellectually exciting books of the year."—Washington Post

"The great iconoclast of literary criticism."—John Sutherland, Guardian

"It's a rare literary critic who attracts so much public attention, and there's a good reason: few are as hellbent on rethinking the way we talk about literature."—Times Literary Supplement

"Moretti, a mythopoeic figure, generates around himself a dense network of folklore and apocrypha."—n+1

"Moretti is already famous in bookish circles for his data-centric approach to novels, which he graphs, maps, and charts ... if his new methods catch on, they could change the way we look at literary history."—Wired

"Distant reading might prove to be a powerful tool for studying literature."—New York Times