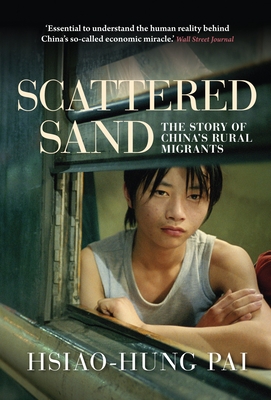 Scattered Sand (Paperback)
The Story of China's Rural Migrants
Verso, 9781781680902, 320pp.
Publication Date: June 4, 2013
Other Editions of This Title:
Hardcover (8/21/2012)
* Individual store prices may vary.
Description
Each year, 200 million workers from China's vast rural interior travel between cities and provinces in search of employment: the largest human migration in history. This indispensable army of labour accounts for half of China's GDP, but is an unorganized workforce—'scattered sand', in Chinese parlance—and the most marginalized and impoverished group of workers in the country. 

For two years, the award-winning journalist Hsiao-Hung Pai traveled across China visiting labourers on Olympic construction sites, in the coal mines and brick kilns of the Yellow River region, and at the factories of the Pearl River Delta. She witnessed the outcome of the 2009 riots in the Muslim province of Xinjiang; saw towns in rubble more than a year after the colossal earthquake in Sichuan; and was reunited with long-lost relatives, estranged since her mother's family fled for Taiwan during the Civil War. Scattered Sand is the result of her travels: a finely wrought portrait of those left behind by China's dramatic social and economic advances.
About the Author
Hsiao-Hung Pai is a freelance journalist, whose report on the Morecambe Bay tragedy for the Guardian was made into the film Ghosts. Her book on undocumented Chinese immigrants in Britain, Chinese Whispers, was shortlisted for the Orwell Book Prize in 2009. She lives in London.

Gregor Benton is Professor Emeritus of Chinese History at Cardiff. He has published twelve prior books on Marxism, political humor, the history of the Chinese Communist Party, Red guerillas in the 1930s, the Sino-Japanese War, dissent in China, Chinese Trotskyism, Hong Kong, the theory of moral economy, and overseas Chinese. His Mountain Fires: The Red Army's Three-Year War in South China, 1934–1938 (1992) won several awards, including the Association of Asian Studies' prize for the best book on modern China.
Praise For Scattered Sand: The Story of China's Rural Migrants…
"Hsiao-Hung Pai's intrepid journalism is one of the most revealing guides to contemporary China."—Pankaj Mishra, author of From the Ruins of Empire

"The product of thorough reporting among China's most marginalised citizens shows what can be discovered despite official obstruction."—New Statesmen

"Scattered Sand captures the sadness, resilience and anger of China's millions of internal and international migrants. This illuminating book effortlessly interweaves individual voices, rarely heard by English-speaking audiences, with the history, politics and economics that shape migrants' stories and their choices."—Bridget Anderson, author of Doing the Dirty Work: The Global Politics of Domestic Labour

"Hsiao-Hung Pai brings her knowledge of China's history to this detailed examination of the plight of the millions of peasants searching for work in China's booming cities and, failing that, in other countries ... A grim but keen view of the dark underside of China's prosperity."—Kirkus Reviews

"The Chinese 'miracle' gets a reality check in this engrossing exposé ... A moving contribution to the growing literature on the new China, the book will prove relevant for anyone interested in ongoing debates around migrant labor in a globalized economy."—Publishers Weekly
or
Not Currently Available for Direct Purchase