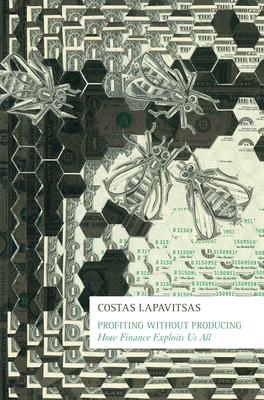 Profiting Without Producing
How Finance Exploits Us All
Hardcover

* Individual store prices may vary.
Other Editions of This Title:
Paperback (1/14/2014)
Description
Financialization is one of the most innovative concepts to emerge in the field of political economy during the last three decades, although there is no agreement on what exactly it is. Profiting Without Producing puts forth a distinctive view defining financialization in terms of the fundamental conduct of non-financial enterprises, banks and households. Its most prominent feature is the rise of financial profit, in part extracted from households through financial expropriation. Financialized capitalism is also prone to crises, none greater than the gigantic turmoil that began in 2007. Using abundant empirical data, the book establishes the causes of the crisis and discusses the options broadly available for controlling finance.
Praise For Profiting Without Producing: How Finance Exploits Us All…
'This book is a profound and panoramic study of the most powerful but destructive economic force of our time – financialization. Based on a sophisticated modern reinterpretation of Marxist theories and in-depth empirical analysis, the book comes up with bold and fundamental reform proposals. It is a must-read for anyone who is committed to progressive economic and social transformation.'
Ha-Joon Chang, Author of 23 Things They Don't Tell You About Capitalism

'The growing dominance of global finance over the past generation ushered in the Wall Street crisis of 2007–09, and, along with it, mass unemployment and punishing austerity policies throughout the world. Building from his command of both the Marxian tradition and alternative theoretical perspectives, Costas Lapavitsas provides both a wide panorama and fresh insights as to how "finance exploits us all". Profiting Without Producing is a major contribution to our understanding
of financialization and its discontents.'
Robert Pollin, Political Economy Research Institute, University of Massachusetts-Amherst

'Costas Lapavitsas has provided an original account of the difficulties that economies will face recovering from the 2008 economic crisis. It is not an optimistic picture, but one that people should struggle with.' Dean Baker, Center for Economic and Policy Research

'This work is clearly a masterpiece on the financialized capitalism of our age.'
Makoto Itoh, Professor Emeritus, University of Tokyo


Praise for Crisis in the Eurozone

"This book is indispensable for anyone trying to make sense of the European Union's implosion."—Alex Callinicos, Professor of European Studies, King's College London

"Crisis in the Eurozone combines the urgency of front-line reporting with insightful detail about the players involved and mechanisms at work."—Gary A. Dymski, Professor of Economics, University of California, Riverside

"The most comprehensive, thoughtful, and insightful dissection of the Eurozone's problems. If you could only read one item on this momentous crisis, this book would be it."—Stergios Skaperdas, Professor of Economics, University of California, Irvine
Verso, 9781781682463, 416pp.
Publication Date: February 4, 2014
About the Author
Costas Lapavitsas is a Professor of Economics at the School of Oriental and African Studies, University of London. He is a member of Research on Money and Finance (RMF). He is the lead author of the new RMF report Breaking Up? A Route Out of the Eurozone Crisis. His previous publications include Crisis in the Eurozone; Social Foundations of Markets; Money and Credit; and Political Economy of Money and Finance.
or
Not Currently Available for Direct Purchase