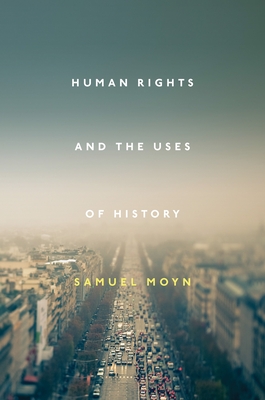 Human Rights and the Uses of History (Hardcover)
Verso, 9781781682630, 160pp.
Publication Date: June 17, 2014
Description
What are the origins of human rights? This question, rarely asked before the end of the Cold War, has in recent years become a major focus of historical and ideological strife. In this sequence of reflective and critical studies, Samuel Moyn engages with some of the leading interpreters of human rights, thinkers who have been creating a field from scratch without due reflection on the local and temporal contexts of the stories they are telling. Having staked out his owns claims about the postwar origins of human rights discourse in his acclaimed Last Utopia, Moyn, in this volume, takes issue with rival conceptions--including, especially, those that underlie justifications of humanitarian intervention.
About the Author
Samuel Moyn is professor of law and history at Harvard University. He is the author of The Last Utopia: Human Rights in History, and Christian Human Rights (2015), among other books, as well as editor of the journal Humanity. He also writes regularly for Foreign Affairs and The Nation.
Praise For Human Rights and the Uses of History…
"With unparalleled clarity and originality, Moyn's hard-hitting, radically revisionist, and persuasive history of human rights provides a bracing historical reconstruction with which scholars, activists, lawyers and anyone interested in the fate of the human rights movement today will have to grapple."—Mark Mazower, author of No Enchanted Palace: The End of Imperialism and the Ideological Origins of the United Nations

"A most welcome book, The Last Utopia is a clear-eyed account of the origins of 'human rights': the best we have."—Tony Judt, author of Postwar: A History of Europe Since 1945

"[Moyn] argues elegantly and forcefully that the dominance of the nation-state in rights thinking made it impossible for the creators of the UN, the protagonists of the Cold War, and the participants in decolonization to conceptualize a world built on individual rights. This view emerged only in the 1970s, creating an entirely new, morality-based utopianism that was unimaginable until previously existing utopian notions no longer seemed plausible. The book, a triumph of originality, scholarship, concision, and bold conceptualization, has a superb bibliographical essay and will be wonderful to teach. A genuinely thrilling account of the modern history of human rights."—S.N. Katz, Choice

"Samuel Moyn's The Last Utopia is a major contribution to the history of twentieth-century human rights, but at the same time a salutary inquiry into the tensions between the rights of citizens as members of sovereign nation-states and the post-national or extra-national rights claims of humans. Moyn has produced a rich, fertile and challenging study of the modern history of rights… Moyn has shown that the history of human rights was a precarious, contingent, protracted and uneven development… If natural rights died as a consequence of secularization, can human rights decline with the erosion of Western liberalism and the securitization of the modern state? With the rise and fall of utopian dreams, academic opinions about the prospects of human rights may differ—however, from now on taking rights seriously means reading Moyn seriously."—Bryan S. Turner, Contemporary Sociology
Advertisement