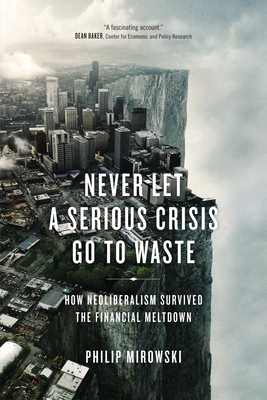 Never Let a Serious Crisis Go to Waste
How Neoliberalism Survived the Financial Meltdown
Paperback

* Individual store prices may vary.
Other Editions of This Title:
Hardcover (6/25/2013)
Description
At the onset of the Great Recession, as house prices sank and joblessness soared, many commentators concluded that the economic convictions behind the disaster would now be consigned to history. Yet in the harsh light of a new day, attacks against government intervention and the global drive for austerity are as strong as ever. Never Let a Serious Crisis Go to Waste is the definitive account of the wreckage of what passes for economic thought, and how neoliberal ideas were used to solve the very crisis they had created. Now updated with a new afterword, Philip Mirowski's sharp and witty work provides a roadmap for those looking to escape today's misguided economic dogma.
Praise For Never Let a Serious Crisis Go to Waste: How Neoliberalism Survived the Financial Meltdown…
"A powerful critique of neoclassical economics." —Times Higher Education

"It is hard to imagine a historian who was not an economist (as Mirowski is) being able to encompass the economics of the second half of the 20th century in its diversity and technicality."—London Review of Books

"Philip Mirowksi is the most imaginative and provocative writer at work today on the recent history of economics."—Boston Globe

"A fascinating account of how the disastrous failure of mainstream economists to predict the economic crisis put them more firmly in control of policy debates than ever before." —Dean Baker, Codirector of the Center for Economic and Policy Research 

"Mirowski exposes the neoliberal takeover of minds and culture with an erudition, style and—dare I say it?—vocabulary that makes deep digging in this Great Bog of Repression almost a pleasure. This book shows how economic ideas caused the crisis. And it demonstrates their enduring triumph, which is that nothing has changed or will change, as we careen from the last disaster to the next one."  —James K . Galbraith, author of The Predator State: How Conservatives Abandoned the Free Market and Why Liberals Should Too 

"The best and most thorough treatment of the financial crisis's impact upon the economics profession, and especially its neoliberal wing. Mirowski is an excellent guide to the literature on all sides of this debate." —Duncan Foley, author of Adam's Fallacy: A Guide to Economic Theology 

"A study guide for those who saw Inside Job and want more. Mirowski has read and digested virtually everything written about the financial crisis. He despairs of the failures of the economics profession to explain it, and especially what he calls the 'level-headed left.' Anyone who reads it will recognize the author's enormous energy and originality." —David Warsh, author of Knowledge and the Wealth of Nations 

"A raucous, irreverent and highly perceptive analysis of how neoliberal economics not only survived the 2008 financial crisis, but even prospered in its aftermath. Mirowski's book is a lively and far-reaching discussion of how it got us into this deep mess." —Gerald Epstein, Codirector of the Political Economy Research Institute, University of Massachusetts, Amherst
Verso, 9781781683026, 496pp.
Publication Date: April 15, 2014
About the Author
Philip Mirowski is a historian and philosopher of economic thought at the University of Notre Dame, Indiana. His many previous books include Machine Dreams and More Heat than Light, and he appeared in Adam Curtis's BBC documentary The Trap.
or
Not Currently Available for Direct Purchase