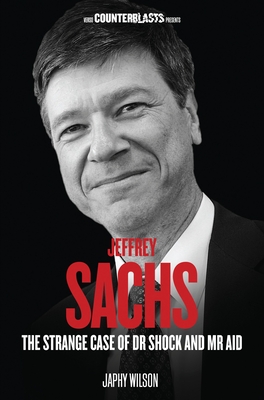 Jeffrey Sachs
The Strange Case of Dr. Shock and Mr. Aid (Counterblasts)
Paperback

* Individual store prices may vary.
Description
An investigation of Sachs's schizophrenic career, and the worldwide havoc he has caused.


Jeffrey Sachs is a man with many faces. A celebrated economist and special advisor to UN Secretary-General Ban Ki-moon, he is also no stranger to the world of celebrity, accompanying Bono, Madonna and Angelina Jolie on high-profile trips to Africa. Once notorious as the progenitor of a brutal form of free market engineering called 'shock therapy', Sachs now positions himself as a voice of progressivism, condemning the '1 per cent' and promoting his solution to extreme poverty through the Millennium Villages Project.

Appearances can be deceiving. Jeffrey Sachs: The Strange Case of Dr Shock and Mr Aid is the story of an evangelical development expert who poses as saviour of the Third World while opening vulnerable nations to economic exploitation. Based on documentary research and on-the-ground investigation, Jeffrey Sachs exposes Mr Aid as no more than a new, more human face of Dr Shock.
Praise For Jeffrey Sachs: The Strange Case of Dr. Shock and Mr. Aid (Counterblasts)…
 'Once famous for bleeding the economies of Poland, Russia and Bolivia, and now famous for handing out Band-Aids in sub-Saharan Africa while proclaiming a reinvention of development, Jeffrey Sachs is the master of having it both ways. In this excellent, highly readable book, Japhy Wilson dissects the man, his ideas, his context and the damage that Sachs and his ilk have inflicted on so many… Anyone concerned with the crisis of global capitalism should have this book.'
—CHRISTIAN PARENTI, author of Tropic of Chaos and Lockdown America

'Neoliberalism has adopted many guises and apostles in the several decades of its history. Some even appear to have experienced road-to-Damascus conversions. This focused book demonstrates that those who oppose the neoliberal blight ought to be careful whom they choose as an ally.'
—COSTAS LAPAVISTAS, author of Profiting Without Producing: How Finance Exploits Us All
Verso, 9781781683293, 144pp.
Publication Date: April 15, 2014
About the Author
Japhy Wilson is a research fellow in International Politics at the School of Environment and Development at the University of Manchester, UK.
or
Not Currently Available for Direct Purchase