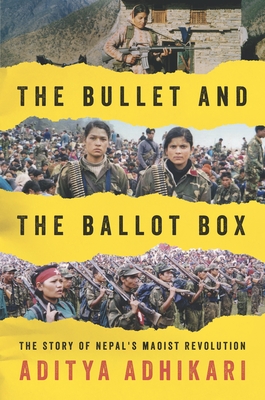 The Bullet and the Ballot Box
The Story of Nepal's Maoist Revolution
Hardcover

* Individual store prices may vary.
Description
The Bullet and the Ballot Box offers a rich and sweeping account of a decade of revolutionary upheaval. When Nepal's Maoists launched their armed rebellion in the nineties, they had limited public support and many argued that their ideology was obsolete. Twelve years later they were in power, and their ambitious plan of social transformation dominated the national agenda. How did this become possible? Adhikari's narrative draws on a broad range of sources – including novels, letters and diaries – to illuminate the history and human drama of the Maoist revolution.
An indispensible account of Nepal's recent history, the book offers a fascinating case study of how communist ideology has been reinterpreted and translated into political action in the twenty-first century.
Praise For The Bullet and the Ballot Box: The Story of Nepal's Maoist Revolution…
"[A] well-researched history of Nepal's Maoist revolution." —Financial Times

"This thoroughly research book reveals how this happened … Machinations rivaling those on the television show House of Cards roiled the palace and the parliament [and] finally drove the royal family from power." —Foreign Affairs

"The writing is wonderfully concrete and fresh. Drawing on interviews with Moaist leaders and cadres, as well as on numerous untranslated Nepali sources (including novels and memoirs), The Bullet and the Ballot Box opens new vistas on the conflict. It is likely to stand for a considerable time to come as the most comprehensive and insightful account of Nepal's Maoist revolution." —David Gellner, University of Oxford
"Aditya Adhikari weaves together an impressive amount of research, analysis and personal observation; and he does so very elegantly. This is a compelling work of scholarship, and a significant contribution to understanding contemporary Nepal." —Manjushree Thapa, author of Forget Kathmandu: An Elegy for Democracy
"The story behind the extraordinary rise of Nepal's Maoists was poorly reported when it happened and remains little understood. Finally we have a definitive, objective and highly readable account of how a poorly armed faction of a small communist party launched an armed rebellion that eventually led - through a remarkable peace process - to its leader becoming the world's first elected Maoist Prime Minister. This book is not only essential for understanding Nepal but also provides broader insights into revolutionary movements and peace processes." —Ian Martin, Former Special Representative of the United Nations Secretary General to Libya, Nepal and East Timor
Verso, 9781781685648, 326pp.
Publication Date: October 7, 2014
About the Author
Aditya Adhikari is a young journalist who has written widely on Nepali politics. Living in Kathmandu he wrote a regular column for the Kathmandu Post between 2008 and 2012.
or
Not Currently Available for Direct Purchase