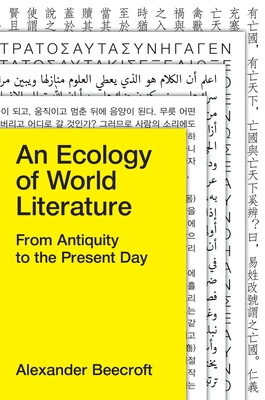 An Ecology of World Literature (Paperback)
From Antiquity to the Present Day
Verso, 9781781685730, 320pp.
Publication Date: January 6, 2015
Other Editions of This Title:
Hardcover (2/24/2015)
* Individual store prices may vary.
Description
What constitutes a nation's literature? How do literatures of different countries interact with one another? In this groundbreaking study, Alexander Beecroft develops a new way of thinking about world literature. Drawing on a series of examples and case studies, the book ranges from ancient epic to the contemporary fiction of Roberto Bolaño and Amitav Ghosh.

Moving across literary ecologies of varying sizes, from small societies to the planet as a whole, the environments in which literary texts are produced and circulated, An Ecology of World Literature places in dialogue scholarly perspectives on ancient and modern, western and non-western texts, navigating literary study into new and uncharted territory.
About the Author
Alexander Beecroft is an Associate Professor of Classics and Comparative Literature at the University of South Carolina. He has published extensively on topics ranging from authorship in ancient Greece and China to theories of world literature, from the emergence of literary history as a discipline in the nineteenth century to the origins of Canadian literature. His first book, Authorship and Cultural Identity in Early Greece and China, was published by Cambridge University Press.
Praise For An Ecology of World Literature: From Antiquity to the Present Day…
"Extraordinary in its sweep across time and space, Alexander Beecroft's new book insightfully distinguishes among various groupings or 'ecologies' of world literature. Admirably lucid, engaging, and ambitious, it encompasses literary cultures at every scale, from the most local to the national and global. It is sure to help energize comparative literary studies for years to come."
—Jahan Ramazani, author of A Transnational Poetics

"A profound undertaking … The journey through the six ecologies Beecroft lays out is altogether fascinating and staggering in breadth and depth."
—Alexa Firat, Journal of the Society for Contemporary Thought and the Islamicate World

"Perhaps, after all, we are not yet in the full era of the world text. And for this reason, it is useful to have Alexander Beecroft's book, An Ecology of World Literature, in which our possibily incipient era of Weltliteratur is given a history—zigzagging from ancient China to modern Europe."
—Adam Thirlwell, Times Literary Supplement

"Beecroft′s approach provides a useful means of comparing literatures across time and language and dares to speculate what might be in store for the future. Well-written and clearly argued.″
—Library Journal

"Approaches the classification of world literature from a truly distinctive standpoint … Beecroft′s ability to negotiate Eastern and Western literatures while avoiding the dichotomy so common to discussing these traditions is astonishing in scope and expertise."
—Choice
or
Not Currently Available for Direct Purchase