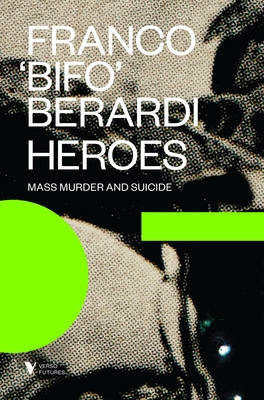 Heroes (Paperback)
Mass Murder and Suicide (Futures)
Verso, 9781781685785, 224pp.
Publication Date: February 3, 2015
Other Editions of This Title:
Hardcover (2/24/2015)
* Individual store prices may vary.
Description
What is the relationship between capitalism and mental health? In his most unsettling book to date, Franco "Bifo" Berardi embarks on an exhilarating journey through philosophy, psychoanalysis and current events, searching for the social roots of the mental malaise of our age.

Spanning an array of horrors – the Aurora "Joker" killer; Anders Breivik; American school massacres; the suicide epidemic in Korea and Japan; and the recent spate of "austerity" suicides in Europe – Heroes dares to explore the darkest shadow cast by the contemporary obsession with relentless competition and hyper-connectivity. In a volume that crowns four decades of radical intellectual work, Berardi develops the psychoanalytical insights of his friend Félix Guattari and proposes dystopian irony as a strategy to disentangle ourselves from the deadly embrace of absolute capitalism.
About the Author
Franco "Bifo" Berardi, founder of the famous Radio Alice in 1976 and one of the most prominent members of Autonomia, is a theorist and media activist. His recent books in English include The Soul at Work: From Alienation to Autonomy and After the Future.
Praise For Heroes: Mass Murder and Suicide (Futures)…
"An exquisite reading of our historical situation."
—Michael Robbins, Chicago Tribune

"Does more than merely scratch the surface...ultimately, Bifo advocates for the limitless power of imagination and irony as the only antidotes in a world urging to be rebuilt from scratch"
—Bookslut

"The sting of this hollow present is felt most acutely in our emotional life, a point driven home by Franco 'Bifo' Berardi in Heroes … a densely packed work of political theory."
—Michael Schapira, Full Stop

Praise for Franco "Bifo" Berardi:

"Bifo is a master of global activism in the age of depression. His mission is to understand real existing capitalism. Sense the despair of the revolt, enjoy this brilliant 'labour of the negative'!"
—Geert Lovink, Founding Director of the Institute of Network Cultures

"As a diagnostician, Berardi is among the sharpest."
—Slate