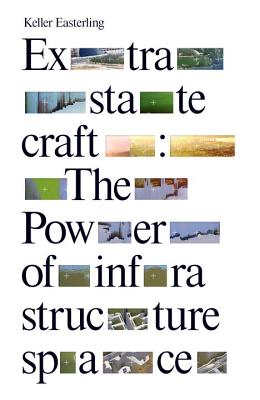 Extrastatecraft (Hardcover)
The Power of Infrastructure Space
Verso, 9781781685877, 252pp.
Publication Date: November 4, 2014
Other Editions of This Title:
Paperback (8/16/2016)
* Individual store prices may vary.
Description
Extrastatecraft controls everyday life in the city: it's the key to power – and resistance – in the twenty-first century.

Infrastructure is not only the underground pipes and cables controlling our cities. It also determines the hidden rules that structure the spaces all around us – free trade zones, smart cities, suburbs, and shopping malls. Extrastatecraft charts the emergent new powers controlling this space and shows how they extend beyond the reach of government.

Keller Easterling explores areas of infrastructure with the greatest impact on our world – examining everything from standards for the thinness of credit cards to the urbanism of mobile telephony, the world's largest shared platform, to the "free zone," the most virulent new world city paradigm. In conclusion, she proposes some unexpected techniques for resisting power in the modern world.

Extrastatecraft will change the way we think about urban spaces – and how we live in them.
About the Author
Keller Easterling is an award-winning writer, architect and Professor at the Yale School of Architecture. She is the author of Organization Space and Enduring Innocence, which was named Archinect's Best Book of 2005. Easterling is also the author of two essaylength books: an ebook, The Action Is the Form: Victor Hugo's TED Talk and a forthcoming book Subtraction. Her writing and design work will be included in the 2014 Venice Biennale. Easterling lectures widely in the US and abroad and contributes to, among others, Domus, Artforum, Grey Room, E-Flux, Cabinet and Volume.
Praise For Extrastatecraft: The Power of Infrastructure Space…
"Extrastatecraft is an essential text for anyone with a stake in the built environment, architect and citizen alike, in articulating the forces that shape our nation-states, and cataloguing—in a precise and readable style—the strategies of an otherwise unaccountable global order."
—Jack Self, Architectural Review

"I have long admired Keller Easterling's talent for extracting a space, a shape, a marking, from mixes of elements rarely brought together—whether materially or conceptually. In Extrastatecraft she does it at a grand scale, cutting across fields of meaning and of practice. A must read."
—Saskia Sassen, author of Expulsions: Brutality and Complexity in the Global Economy

"An extraordinary guidebook to the politics of infrastructure in the contemporary world, Extrastatecraft is a pivotal and beautifully written excavation of the hidden geographies of globalisation. 'Free' trade zones, optic fibre networks, credit cards, mobile phones, economic and financial rules … all emerge as charged elements within an often invisible geography that could not be more important. Extrastatecraft works to politicise and expose the prosaic and taken-for-granted hardware of our world."
—Stephen Graham, author of Cities Under Siege

"A breathtaking journey along the material and immaterial infrastructures that continuously shape contemporary global space. Information flows of financial, legal or military nature congeal into wide arrays of strange 'spatial products,' extraterritorial 'zones' and building nodes. From within the logic of these pervasive systems, Easterling poses the most urgent political challenge facing spatial activists today, and shows how the search for justice must retool to outsmart the immanent violence of Extrastatescraft."
—Eyal Weizman (author of Hollow Land) and Ines Weizman

"Extrastatecraft establishes Keller Easterling's growing reputation as the savviest student of postnational spatial and infrastructural forms. Bringing together architecture, coding, digitalization and logistics, she exposes the nervous system of the new logics of domination through information and proposes a cunning counter-politics of humor, discommunication and disguise. A must read for all varieties of critical students of space and sovereignty in this emerging century."
—Arjun Appadurai, author of The Future as Cultural Fact

"A provocative study of infrastructure, the operating system governing everyday life."
—Jay Owens, Icon
or
Not Currently Available for Direct Purchase