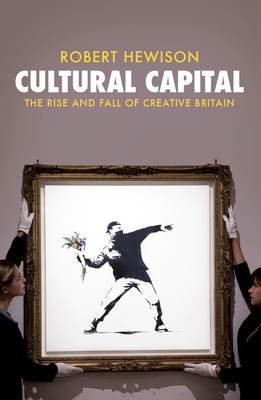 Cultural Capital
The Rise and Fall of Creative Britain
Paperback

* Individual store prices may vary.
Description
Britain began the twenty-first century convinced of its creativity. Throughout the New Labour era, the visual and performing arts, museums and galleries, were ceaselessly promoted as a stimulus to national economic revival, a post-industrial revolution where spending on culture would solve everything, from national decline to crime. Tony Blair heralded it a "golden age." Yet despite huge investment, the audience for the arts remained a privileged minority. So what went wrong?
In Cultural Capital, leading historian Robert Hewison gives an in-depth account of how creative Britain lost its way. From Cool Britannia and the Millennium Dome to the Olympics and beyond, he shows how culture became a commodity, and how target-obsessed managerialism stifled creativity. In response to the failures of New Labour and the austerity measures of the Coalition government, Hewison argues for a new relationship between politics and the arts.
Praise For Cultural Capital: The Rise and Fall of Creative Britain…
"A brilliant analysis of the way that the intrinsic value of art was undermined by a Blair-led government's attempts to control creative production and turn it into an instrument of social engineering. It is a timely warning about the dangers of political interference and a rallying cry for art to both be publicly supported and maintain a hard won independence. Art needs this independence from power in order to show us to ourselves in ways that the media and politics never do and never can." —Antony Gormley
"Long Britain's best chronicler of culture and political policy, Robert Hewison turns his unflinching gaze on the New Labour era, a time of targets, access and excellence for all, complete with the National Lottery, Cool Britannia, the Millennium Dome and the 2012 Olympics. It's not a pretty sight, and his findings of folly, incompetence and vanity will entertain and disturb readers in equal measure. They should also embarrass any politicians and arts administrators who retain a degree of self-awareness." —Alwyn Turner, author of A Classless Society
 
"This is essential reading for anyone who has the slightest interest in the funding of the arts in this country." —Richard Eyre
Verso, 9781781685914, 288pp.
Publication Date: November 11, 2014
About the Author
Robert Hewison is a historian of contemporary British culture. Beginning in 1939 with Under Siege, his series of books presents a portrait of Britain that runs from the perils of wartime to the counterrevolution of Thatcherism in The Heritage Industry. He is an internationally recognized authority on the work of John Ruskin, and has held chairs at Oxford, Lancaster and City Universities. He is an Associate of the think tank Demos, and has written on the arts for the Sunday Times since 1981. He has been a consultant to the Clore Duffield Foundation, the Gulbenkian Foundation, the Arts Council, the Heritage Lottery Fund and the Royal Shakespeare Company, and is on the editorial advisory board of the journal Cultural Trends.
or
Not Currently Available for Direct Purchase