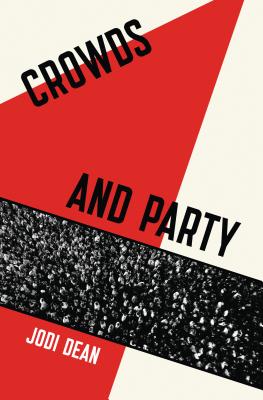 Crowds and Party
Hardcover

* Individual store prices may vary.
Other Editions of This Title:
Paperback (9/11/2018)
Description
How do mass protests become an organized activist collective?

Crowds and Party channels the energies of the riotous crowds who took to the streets in the past five years into an argument for the political party. Rejecting the emphasis on individuals and multitudes, Jodi Dean argues that we need to rethink the collective subject of politics. When crowds appear in spaces unauthorized by capital and the state—such as in the Occupy movement in New York, London and across the world—they create a gap of possibility. But too many on the Left remain stuck in this beautiful moment of promise—they argue for more of the same, further fragmenting issues and identities, rehearsing the last thirty years of left-wing defeat. In Crowds and Party, Dean argues that previous discussions of the party have missed its affective dimensions, the way it operates as a knot of unconscious processes and binds people together. Dean shows how we can see the party as an organization that can reinvigorate political practice.
Praise For Crowds and Party…
"In this enthralling and exhilarating book, Jodi Dean shows that, contrary to neo-anarchist cliche, the party form and class struggle are very far from being outmoded. The revival of the party has produced a surge of enthusiasm in contemporary left politics—an enthusiasm that Crowds and Party both explains and stokes up."
—Mark Fisher, author of Capitalist Realism

"Jodi Dean's new book isn't just a timely reminder that to change our thoroughly and deliberately atomized society demands collective action and militant organization; it is also a passionate analysis of the fractured passion of shared political commitment, linking the enthusiasm of group experience with the sustained and steady discipline of popular empowerment."
—Peter Hallward, author of Damming the Flood

"Written clearly, forcefully, and passionately, Dean gives us—the Left—not just a diagnosis of our defeat but, more importantly, a way out: the communist Party."
—Derek R. Ford, The Hampton Institute

"Dean has a powerful point to make: political movements have to move beyond immediate expression—the crowd—and embrace long-term organization—the party."
—Matt Ray, Open Letters Monthly

"Jodi Dean's book rejects those who invest positively in the individual or the multiple per se and instead asks for a new and more subversive collective subject of politics. From real crowds like the Occupy Movement to the theoretical conceptions of crowds and mobs, Dean's book interrogates the role of the crowd and the party in an attempt to provide a way forward politically."
—Alfie Bown, Hong Kong Review of Books

Praise for Jodi Dean's The Communist Horizon:

"This is what everyone engaged in today's struggles for emancipation needs: a unique combination of theoretical stringency and a realistic assessment of our predicament. To anyone who continues to dwell in illusions about liberal democracy, one should simply say: read Jodi Dean's new book!"
—Slavoj Žižek
Verso, 9781781686942, 288pp.
Publication Date: February 9, 2016
About the Author
Jodi Dean teaches political and media theory in Geneva, New York. She has written or edited eleven books, including The Communist Horizon and Democracy and Other Neoliberal Fantasies.
or
Not Currently Available for Direct Purchase