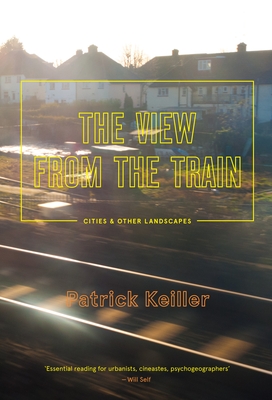 The View from the Train
Cities and Other Landscapes
Paperback

* Individual store prices may vary.
Description
"Robinson believed that, if he looked at it hard enough, he could cause the surface of the city to reveal to him the molecular basis of historical events, and in this way he hoped to see into the future."

In his sequence of films, Patrick Keiller retraces the hidden story of the places where we live, the cities and landscapes of our everyday lives. Now, in this brilliant collection of essays, he offers a new perspective on how Britain works and sees itself. He discusses the background to his work and its development – from surrealism to post-2008 economic catastrophe – and expands on what the films reveal.

Referencing writers including Benjamin and Lefebvre, the essays follow his career since the late 1970s, exploring themes including the surrealist perception of the city; the relationship of architecture and film; how cities change over time, and how films represent this; as well as accounts of cross-country journeys involving historical figures, unexpected ideas and an urgent portrait of post-crash Britain.
Praise For The View from the Train: Cities and Other Landscapes…
"Patrick Keiller's films (including London and Robinson in Space) are some of the most beautiful and evocative images of contemporary urban environments we have; in this collection of lucid and eloquent essays he shows us the theoretical rigour that lies behind his practice. Essential reading for urbanists, cineastes, psychogeographers – and indeed anyone who either lives in cities, or cares about them; so: everyone." —Will Self
"Keiller is Britain's most observant and provocative film-maker around the subject of cities and the landscape. In these wonderful essays, he explores the political and cultural forces behind how the UK looks." —Edwin Heathcote, Financial Times Books of the Year
"An enigmatic, intermittently brilliant collection of essays about the built landscape of Britain and how it has changed in the last thirty years." —Andy Beckett, Guardian
"Perceptive, educated, un-obvious musings on place and inhabitation." —Rowan Moore, Observer Books of the Year
"Our most original geographical and political thinker." —Owen Hatherley, author of A New Kind of Bleak
The View from the Train often delights with its sly, impish wit and observation." —Ian Thomson, Independent
"An essayist of stylish rigour." —Brian Dillon, author of In the Dark Room
Verso, 9781781687765, 228pp.
Publication Date: October 7, 2014
About the Author
Patrick Keiller's films include the celebrated London (1994), Robinson in Space (1997), The Dilapidated Dwelling (2000), and Robinson in Ruins (2010). He has devised large-scale installations including Londres, Bombay (Le Fresnoy, Tourcoing, 2006) and The Robinson Institute (Tate Britain, London, 2012), the latter accompanied by a book The Possibility of Life's Survival on the Planet. He was a Research Fellow at the Royal College of Art, London (2002-2011), and has taught in schools of art.
or
Not Currently Available for Direct Purchase