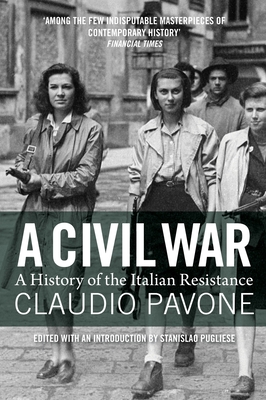 A Civil War (Paperback)
A History of the Italian Resistance
Verso, 9781781687772, 768pp.
Publication Date: October 7, 2014
Other Editions of This Title:
Hardcover (11/19/2013)
* Individual store prices may vary.
Description
A Civil War is a history of the wartime Italian Resistance, recounted by a historian who, as a young man, took part in the struggle against Mussolini's fascist Republic. Since its publication in Italy, Claudio Pavone's masterwork has become indispensable to anyone seeking to understand this period and its continuing importance for the nation's identity.
Pavone casts a sober eye on his protagonists' ethical and ideological motivations. He uncovers a multilayered conflict, in which class antagonisms, patriotism and political ideals all played a part. A clear understanding of this complexity allows him to explain many details of the post-war transition, as well as the legacy of the Resistance for modern Italy. In addition to being a monumental work of scholarship, A Civil War is a folk history, capturing events, personalities and attitudes that were on the verge of slipping entirely out of recollection to the detriment of Italy's understanding of itself and its past.
About the Author
Claudio Pavone was born in Rome in 1920 and, as a young man, took an active part in the Resistance movement. A renowned historian, he worked in the National Arcives and was Professor of Contemporary History at the University of Pisa. At present, he is the President of the Historic Institute of the Liberation Movement in Italy, the Vice President of the Italian Society of Contemporary History and the Director of the journal Parolechiave.
Praise For A Civil War: A History of the Italian Resistance…
"Pavone's great work is among the few indisputable masterpieces of contemporary history. But more than this, it is a unique meditation on the passions and tensions that continue to swirl beneath the surface of modern politics."
—Mark Mazower, Financial Times

"Very few books change an entire perspective on a crucial period of history. Claudio Pavone's A Civil War is one of those books … [This] edition of Pavone's masterpiece is something to be cherished."
—Times Literary Supplement

"Verso's decision to publish an integral English edition of Una guerra civile merits high praise."
—Philip Cooke, Journal of Modern History

"There have not been, in the past few years, many books on history and politics that have sparked such a vast and heated debate as the one arising with the publication of A Civil War by Claudio Pavone."
—Norberto Bobbio, author of The Future of Democracy

"The most beautiful book written to date on the Italian Resistance."
—L'Unità

"An essential book on the Resistance struggle."
—Corriere della Sera

"The most important essay on the Resistance."
—La Stampa

"An essential book—the best book on the Resistance to date—which changes the way we look at that phenomenon, engaging dispassionately with its key and controversial moments: the civil war, violence, ideology, the relationship with the allies."
—La Repubblica

"Passionate and fascinating, well documented in the slightest detail, radical in its themes and solutions. And it is also, in some regards, definitive, the final end of an ideal historiographical tradition begun with Battaglia in his Storia della Resistenza Italiana in 1964."
—Marco Revelli, L'Indice