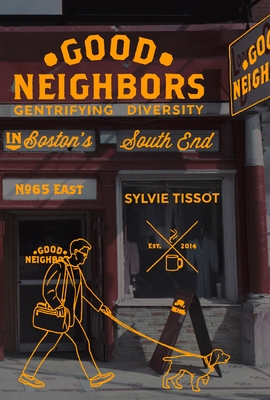 Good Neighbors (Hardcover)
Gentrifying Diversity in Boston's South End
Verso, 9781781687925, 288pp.
Publication Date: June 9, 2015
* Individual store prices may vary.
Description
Does gentrification destroy diversity? Or does it thrive on it? Boston's South End, a legendary working-class neighborhood with the largest Victorian brick row house district in the United States and a celebrated reputation for diversity, has become in recent years a flashpoint for the problems of gentrification. It has born witness to the kind of rapid transformation leading to pitched battles over the class and race politics throughout the country and indeed the contemporary world.

This subtle study of a storied urban neighborhood reveals the way that upper-middle-class newcomers have positioned themselves as champions of diversity, and how their mobilization around this key concept has reordered class divisions rather than abolished them.
About the Author
Sylvie Tissot (born in 1971) is a French sociologist and feminist activist. She teaches political science at the Université de Vincennes-Saint Denis-Paris VIII. Her research focuses on urban transformations in French and American cities. She co-founded the popular website Les Mots sont Importants with Pierre Tévanian.
Praise For Good Neighbors: Gentrifying Diversity in Boston's South End…
"You don't have to share Tissot's politics to worry about the underlying dynamic she describes: Under almost any rules for civic engagement, people with resources and connections can steer the process to their own advantage. Even liberal values can disguise a form of control."
—Boston Globe

"Sylvie Tissot—a hip, brilliant, de Tocqueville of the post-'68 left—casts a fair but jaundiced eye on America's plump underbelly of tolerant privilege and its flattened idea of diversity. A truly memorable account of gentrification and its discontents."
—Michael Sorkin

"What is interesting about the South End story is what it reveals about gentrification generally, old or new, diverse or not."
—Los Angeles Review of Books

"A powerful contribution to the rising tide of scholarship on global gentrification. It will make you think twice the next time you hear a neighbourhood celebrated as 'vibrant'."
—Thomas Meaney, Times Literary Supplement

"Good Neighbors powerfully demonstrates how gentrifiers often fixate on the old (homes) and the marginally political (greenmarkets) so that they do not have to think about the displacement involved in neighborhood change and their own role in it.″
—Public Books

"A penetrating analysis of the social practices and cultural strategies that turn slum neighborhoods into safe spaces for the rising elite. It's an ethnography of Boston, but it sheds light on urban dynamics throughout the world."
—Eric Klinenberg, author of Going Solo and Heat Wave

"A work of creativity and imagination that goes beyond the well-known gentrification arguments that have proliferated of late. A sure winner."
—Michele Lamont, Director of the Weatherhead Center for International Studies, Harvard University

"A fascinating analysis of exclusion, lack of self-awareness and conflicting values."
 —Next City

"Tissot's anthropological approach yields a richness of detail about gentrifiers perhaps never equalled in previous studies."
—Dennis E. Gale, Journal of Urban Affairs

"Because of the quality of the ethnographic enquiry and the relevance of the issues raised, this approach to gentrification allows Tissot to go beyond simplistic accounts of the sociological transformations of a neighborhood."
—Nonfiction.fr

"The rich material gathered during in-depth field enquiries and the invaluable archives collected from the inhabitants will win the skeptics over. A significant contribution to the debate surrounding progressive upper class culture."
—La Vie des Idées

"An original contribution to the [gentrification] debate. Tissot is a master in the art of sailing in the murky waters of 'progressive' discourses, and she does so without a pinch of salt."
—L'Humanité

"Good Neighbors is a solid and fruitful contribution to current debates around urban and social coexistence."
—Le Mouvement Social
or
Not Currently Available for Direct Purchase