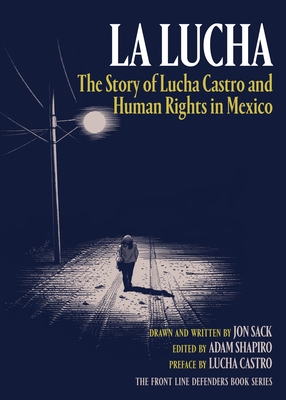 La Lucha (Paperback)
The Story of Lucha Castro and Human Rights in Mexico
Verso, 9781781688014, 112pp.
Publication Date: March 31, 2015
* Individual store prices may vary.
Description
A front-line human rights defender fighting murderous impunity in the Mexican borderlands

The Mexican border state of Chihuahua and its city Juárez have become notorious the world over as hotbeds of violence. Drug cartel battles and official corruption result in more murders annually in Chihuahua than in wartorn Afghanistan. Thanks to a culture of impunity, 97 percent of the killings in Juárez go unsolved. Despite a climate of fear, a small group of human rights activists, exemplified by the Chihuahua lawyer and organizer Lucha Castro, works to identify the killers and their official enablers.

This is the story of La Lucha, illustrated in beautiful and chilling comic book art, rendering in rich detail the stories of families ripped apart by disappearances and murders—especially gender-based violence—and the remarkably brave advocacy, protests, and investigations of ordinary citizens who turned their grief into resistance.
About the Author
Jon Sack is an artist, writer and activist based in the US and UK. He completed an MFA at Goldsmiths College in 2006 and has exhibited in the US and UK. He has published comics about the history of oil in Iraq, the blockade of Gaza and the plight of Syrian refugees in Turkey. His work has appeared in the Daily Star (Lebanon), the Mail and Guardian (South Africa), Red Pepper magazine (UK), and Beyond Borders (Pavement Books, 2012, edited by John Hutnyk).

Adam Shapiro is Head of Campaigns at Front Line Defenders, an Irish international human rights organization. At Front Line Defenders, his work involves innovative campaigns to raise the profiles of human rights defenders at risk, including the development of a monthly web-based video documentary series, Multiple Exposure. Adam is also a documentary filmmaker and human rights activist.
Praise For La Lucha: The Story of Lucha Castro and Human Rights in Mexico…
"No matter what you're accomplishing in your life, you'll realize it's not enough when you read La Lucha … Sack's documentary-style drawings capture vistas of villages emptied of fearful residents and details of grief and determination on the faces of activists."
—Village Voice

"This book provides unique, first-person insight into the struggle for justice in what remains one of the world's most dangerous places for human rights defenders."
—Mary Robinson, former UN Commissioner for Human Rights

"La Lucha provides vital information, and confirms Robert F. Kennedy's inspiring words: 'One heart with courage is a majority.'"
—Martin Sheen

"A picture of violence that's become commonplace—and everyday bravery in the face of violence."
—Francisco Goldman, author of The Interior Circuit
or
Not Currently Available for Direct Purchase