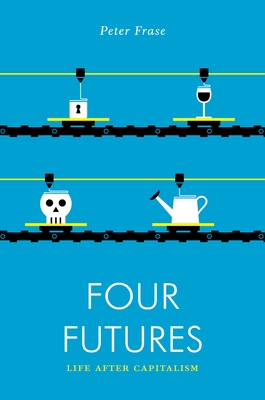 Four Futures
Life After Capitalism (Jacobin)
Paperback

* Individual store prices may vary.
Other Editions of This Title:
Digital Audiobook (5/29/2017)
Compact Disc (5/30/2017)
MP3 CD (5/30/2017)
Description
An "invigorating" vision of four post-capitalist futures that consider the intersections of technology, the environment, and modern politics (The Guardian)

Peter Frase argues that increasing automation and a growing scarcity of resources, thanks to climate change, will bring it all tumbling down. In Four Futures, Frase imagines how this post-capitalist world might look, deploying the tools of both social science and speculative fiction to explore what communism, rentism, socialism and exterminism might actually entail.

Could the current rise of real-life robocops usher in a world that resembles Ender's Game? And sure, communism will bring an end to material scarcities and inequalities of wealth—but there's no guarantee that social hierarchies, governed by an economy of "likes," wouldn't rise to take their place. A whirlwind tour through science fiction, social theory and the new technologies already shaping our lives, Four Futures is a balance sheet of the socialisms we may reach if a resurgent Left is successful, and the barbarisms we may be consigned to if those movements fail.
Praise For Four Futures: Life After Capitalism (Jacobin)…
"Frase injects a sorely needed dose of reality to the conversation, and the result is invigorating … I lost sleep over it."
—Ben Tarnoff, Guardian

"An engaging thought experiment on the intersection of technology and the environment. Indeed, as we ponder the interplay between digital abundance and physical scarcity, the digital industrialist solutions of most thinkers in this space pale in comparison to Frase's more open-minded, less deterministic understanding of the future unfolding before us."
—Douglas Rushkoff, author of Program or Be Programmed and Present Shock

"A remarkably clear-eyed view of the futures we're facing, bringing humor and intelligence to the lab of speculative fiction to create four smart and sharply lit early warning signals."
—Warren Ellis, author of Gun Machine and Transmetropolitan

"Are the robots eating our jobs? Will technology set us free? These questions aren't new, but Frase's approach to answering them is refreshingly inventive. Four Futures is a thought-provoking work of political speculation. This incisive little book offers the vital reminder that nothing is set in stone—or silicon—and that in order to fight for a better world we first need to be able to imagine it."
—Astra Taylor, author of The People's Platform

"Brexit looms. Trump leers. Populism shouts. Reactionary politics casts long shadows. The right and left tear at themselves and stretch outwards. International tensions simmer. This seems like an appropriate moment for re-envisioning, and contributions to this process are arriving at some pace. Peter Frase's engaging short book is another addition to this collective reimagining."
—David Beer, OpenDemocracy

"Frase deserves great credit for illuminating the possibilites our politics, technology, and environment now enable and constrain. Simultaneously entertaining and deep, Four Futures should inspire more 'social science fiction.'"
—Frank Pasquale, Commonweal

"Takes the practice of speculation and puts it to powerful use on the questions of automation and climate change."
—Red Pepper

"Frase's book provides a useful framework to think about life after capitalism."
—Adam Szetela, Cultural Logic: Marxist Theory and Practice
Verso, 9781781688137, 160pp.
Publication Date: October 11, 2016
About the Author
Peter Frase is an editor at Jacobin magazine, a Ph.D. candidate in Sociology at the CUNY Graduate Center, and has written for In These Times and Al Jazeera. He lives in New York City.