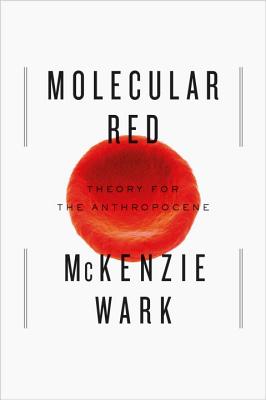 Molecular Red (Hardcover)
Theory for the Anthropocene
Verso, 9781781688274, 304pp.
Publication Date: April 21, 2015
Other Editions of This Title:
Paperback (10/25/2016)
* Individual store prices may vary.
Description
In Molecular Red, McKenzie Wark creates philosophical tools for the Anthropocene, our new planetary epoch, in which human and natural forces are so entwined that the future of one determines that of the other.

Wark explores the implications of Anthropocene through the story of two empires, the Soviet and then the American. The fall of the former prefigures that of the latter. From the ruins of these mighty histories, Wark salvages ideas to help us picture what kind of worlds collective labor might yet build. From the Russian revolution, Wark unearths the work of Alexander Bogdanov—Lenin's rival—as well as the great Proletkult writer and engineer Andrey Platonov.

The Soviet experiment emerges from the past as an allegory for the new organizational challenges of our time. From deep within the Californian military-entertainment complex, Wark retrieves Donna Haraway's cyborg critique and science fiction writer Kim Stanley Robinson's Martian utopia as powerful resources for rethinking and remaking the world that climate change has wrought. Molecular Red proposes an alternative realism, where hope is found in what remains and endures.
About the Author
McKenzie Wark is the author of A Hacker Manifesto, Gamer Theory, The Beach Beneath the Street and The Spectacle of Disintegration, among other books. He is Professor of Media and Culture at the New School for Social Research and Eugene Lang College in New York City.
Praise For Molecular Red: Theory for the Anthropocene…
"A wonderful book … informative and moving … a great recovery of an instructive life and literary effort. The book makes the case for a kind of political vision and action we need to recognize and enact. A true pleasure to read."
—Kim Stanley Robinson, author of the Mars Trilogy

"A very imaginative, historically smart, politically generative thesis … that I think we urgently need."
—Donna Haraway, author of Simians, Cyborgs, and Women: The Reinvention of Nature

"Molecular Red seeks to put scholarship to work. The result is a playbook for the Anthropocene, a set of moves and strategies extracted from an unexpected canon of texts formed by a mash-up of the Soviet avant-garde and the Californian high-tech imaginary. Remnants of the two great empires of the twentieth century are pitted against the rapacious insurgency of their twenty-first-century progeny, playfully named by Wark as the Carbon Liberation Front."
—Radical Philosophy

"A call to arms in which art and leisure, science and philosophy hack into each other in order to produce a way of thinking that works on both a pragmatic (proletarian) and a philosophical (bourgeois) level. It's also his own version of Back to the Future, in which Wark comes across as a bit of a Marty McFly, dashing back to the past to proclaim new heroes and new solutions to problems in the present—principally climate change."
—Art Review
or
Not Currently Available for Direct Purchase