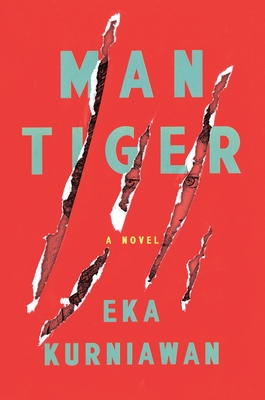 Man Tiger
A Novel
Paperback

* Individual store prices may vary.
Description
Winner of the 2016 Financial Times Emerging Voices Award, and longlisted for the 2016 Man Booker International Prize

A wry, affecting tale set in a small town on the Indonesian coast, Man Tiger tells the story of two interlinked and tormented families and of Margio, a young man ordinary in all particulars except that he conceals within himself a supernatural female white tiger. The inequities and betrayals of family life coalesce around and torment this magical being. An explosive act of violence follows, and its mysterious cause is unraveled as events progress toward a heartbreaking revelation.

Lyrical and bawdy, experimental and political, this extraordinary novel announces the arrival of a powerful new voice on the global literary stage.
Praise For Man Tiger: A Novel…
"Against the killings of those years and the collective amnesia used to blank out the fate of [Indonesia's] victims—a kind of second death, as it were—Kurniawan's fiction summons its legions of ghosts. Against the strongmen who presided over violence and abuse, it raises the dead Dewi Ayu and brings to life a magic tigress hungry for justice."
—Siddhartha Deb, New Republic

"Tight, focused and thrilling. Like a good crime novel, Man Tiger works best when read in a single sitting, and its propulsive suspense is all the more remarkable because Kurniawan reveals both victim and murderer in the first sentence."
—Jon Fasman, New York Times Book Review

"Can't-Miss New Read"
—Huffington Post 2015 Fall Books Preview

"Without a doubt the most original, imaginatively profound, and elegant writer of fiction in Indonesia today: its brightest and most unexpected meteorite."
—Benedict Anderson, author of Imagined Communities

"In terms of the literary novel, the year's most stirring revelation is Eka Kurniawan … Imagine if Gogol adapted the films of Weerasethakul into novels."
—Jonthan Sturgeon, Flavorwire

"[Man Tiger is] signature Kurniawan in its serious playfulness. It alternates flash and inner quiet. We feel everything from the tenderness of family meals to the roughness of a torn jugular."
—BOMB Magazine

"The world Kurniawan invents is familiar and unexpected, incorporating mystery, magical realism, and folklore … Biting and beautiful … This wild and enthralling novel manages to entertain while offering readers insight into the traditions of a little-known South East Asian culture. Kurniawan has officially put the West on notice.
—Publishers Weekly

"Man Tiger is a novel of mystery, suspense, and magical realism … Kurniawan has already been compared to writers like Gabriel García Márquez, so he's for sure one to put on your list."
—Susie Rodarme, Book Riot

"[It's] telling that many have deemed Kurniawan the next Pramoedya Ananta Toer, an acclaimed pioneer of socialist realism."
—Gillian Terzis, The New Yorker

"A slim, wry story … at once elegant and bawdy, experimental, and political."
—Allison Noelle Conner, The Offing (from The LA Review of Books) 

"A supernatural tale of murder and desire fascinatingly subverts the crime genre … Kurniawan's writing demonstrates an affinity with literary heavyweights such as, yes, García Márquez and Dostoevsky."
—Guardian

"What good fortune that English-speaking readers may now find ourselves enchanted, confronted, and perhaps transformed by Kurniawan's work."
—Bookforum

"[Man Tiger's] explosive prose and provocative employment of fantastical elements will startle any reader."
—Claire Fallon, Huffington Post

"[Kurniawan] seems destined to join the ranks of our great storytellers like Salman Rushdie and Gabriel García Márquez."
—Literary Hub
Verso, 9781781688595, 192pp.
Publication Date: September 15, 2015
About the Author
Eka Kurniawan was born in Tasikmalaya, Indonesia in 1975. He studied philosophy at Gadjah Mada University, Yogyakarta. He has published several novels, including Beauty Is a Wound and Man Tiger, as well as short stories. His novels have been published in a number of languages, including English.

Labodalih Sembiring is a freelance features reporter for English-language publications, a writer of fiction in English and Indonesian, an amateur photographer, and a landscape designer.