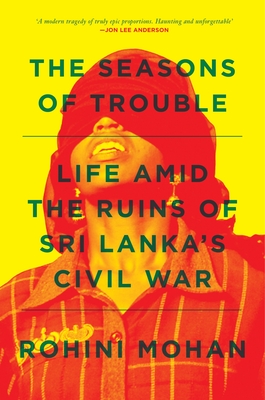 The Seasons of Trouble (Paperback)
Life Amid the Ruins of Sri Lanka's Civil War
Verso, 9781781688830, 368pp.
Publication Date: October 20, 2015
Other Editions of This Title:
Hardcover (10/21/2014)
* Individual store prices may vary.
Description
For three decades, Sri Lanka's civil war tore communities apart. In 2009, the Sri Lankan army finally defeated the separatist Tamil Tigers guerrillas in a fierce battle that swept up about 300,000 civilians and killed more than 40,000. More than a million had been displaced by the conflict, and the resilient among them still dared to hope. But the next five years changed everything.
Rohini Mohan's searing account of three lives caught up in the devastation looks beyond the heroism of wartime survival to reveal the creeping violence of the everyday. When city-bred Sarva is dragged off the streets by state forces, his middle-aged mother, Indra, searches for him through the labyrinthine Sri Lankan bureaucracy. Meanwhile, Mugil, a former child soldier, deserts the Tigers in the thick of war to protect her family.
Having survived, they struggle to live as the Sri Lankan state continues to attack minority Tamils and Muslims, frittering away the era of peace. Sarva flees the country, losing his way – and almost his life – in a bid for asylum. Mugil stays, breaking out of the refugee camp to rebuild her family and an ordinary life in the village she left as a girl. But in her tumultuous world, desires, plans, and people can be snatched away in a moment.
The Seasons of Trouble
is a startling, brutal, yet beau­tifully written debut from a prize-winning journal­ist. It is a classic piece of reportage, five years in the making, and a trenchant, compassionate examina­tion of the corrosive effect of conflict on a people.
About the Author
Rohini Mohan is a political journalist based in Bangalore, India. She has won prestigious recognition for her work, including the Charles Wallace Fellowship 2013; the ICRC Humanitarian Reporting Award 2012, New Delhi; the Sanskriti–Prabha Dutt Fellowship 2012, New Delhi; and the South Asian Journalists Association award 2011, New York. She has written for Tehelka, the Caravan, Outlook, the Hindu and the New York Times. Her website is pebblesthrow.blogspot.co.uk.
Praise For The Seasons of Trouble: Life Amid the Ruins of Sri Lanka's Civil War…
"The Seasons of Trouble is devastatingly good. Rohini Mohan's intimately rendered account of the brutal end-game and unfinished aftermath of Sri Lanka's civil war is breathtakingly well-told. By focusing on the lives of three Tamils and telling their stories in novelistic detail, Mohan has revealed a modern tragedy of truly epic proportions. Haunting and unforgettable."
—Jon Lee Anderson, New Yorker

"A remarkable feat of empathy. Mohan paints her characters with such emotional richness that it's hard to believe the work is not a product of her imagination but of five years of painstaking reporting."
—Adrian Chen, Slate ("Best Books of 2014")

"Mohan captures a country of dueling narratives as irreconcilable as those of the Palestinians and the Israelis, of suspicions and betrayals instigated by an all-powerful security apparatus."
—New York Review of Books

"Rohini Mohan offers a fine-grained account of the Rajapaksa years. Her narrative interweaves the fates of two former LTTE fighters, and one of their mothers, as they navigate their way through postwar Sri Lanka. She enters the minds of her subjects with care, never presuming to know more about her subjects than they know themselves. She also never allows her portraits of people to obstruct the larger story, as she documents the continuities and ruptures between civil war and peace: the tortures that continue in Sri Lanka's prisons, the reviling of former LTTE female fighters by those who once cheered them on, the rising animus towards Muslims, and a new economic regime which, in its pursuit of foreign investment, has caused the stagnation of real wages."
—London Review of Books

"Using three lives—an abducted son, a searching mother, and a child soldier—Mohan gets close enough to show the unraveling of not only a people but individuals and families … Mohan combines years of superb journalism with a novelist's touch to give a vividly brutal and beautiful look at humans surviving the still-violent aftermath of a civil war."
—Guernica

"A penetrating account of the stories of Tamil survivors of the conflict."
—LA Review of Books

"Gripping and profoundly moving ... Rohini Mohan has produced an astonishing feat of reportage."
—Charles Mahtesian, NPR ("2014's Great Reads")

"In large part a chronicle of war and its aftermath, Mohan's impressive study is also a Kafkaesque story of survival in a society riven by ethnic tensions and mutual distrust."
—Lucy Popescu, Times Literary Supplement

"Extraordinary rendering of the brutal denouement of the war between the Sri Lankan state and the Tamil rebels … The effect of these three interwoven narratives is haunting, and The Seasons of Trouble is a work of daring empathy. Mohan manages to give us direct access to the worldview of impoverished Tamil villagers and the seemingly Faustian choices they face … This is Sri Lanka's tragedy, but it is also Mohan's triumph."
—Anand Gopal, Bookforum

"Governments seriously contemplating Sri Lanka's model would be wise to read The Seasons of Trouble. It isn't a traditional political study, but Mohan doesn't intend it to be. Instead, by focusing intimately on the lives of three individuals—their daily struggles, the shared hurt and trauma—she has produced an ambitious, thoroughly engrossing work that informs the mind while simultaneously unsettling the heart."
—The American Interest

"Seasons of Trouble, though nonfiction, does what novels do best: it allows us into the hearts and minds of people who might be very different from us, but with whom we come to have a great empathy through inhabiting their lives."
—Shyam Selvadurai, author of Funny Boy and The Hungry Ghosts

"Poetic … a thoroughly absorbing book."
—Economist

"A significant, though heartrending, account."
—Alan Moores, Booklist