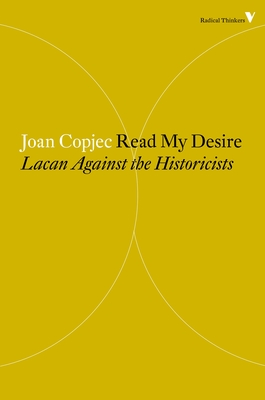 Read My Desire
Lacan Against the Historicists (Radical Thinkers)
Paperback

* Individual store prices may vary.
Description
In Read My Desire, Joan Copjec stages a confrontation between the theories of Jacques Lacan and those of Michel Foucault, protagonists of two powerful modern disciplines—psychoanalysis and historicism. Ordinarily, these modes of thinking only cross paths long enough for historicists to charge psychoanalysis with an indifference to history, but here psychoanalysis, via Lacan, goes on the offensive. Refusing to cede history to the historicists, Copjec makes a case for the superiority of Lacan's explanation of historical processes and generative principles. Her goal is to inspire a new kind of cultural critique, one that is "literate in desire," and capable of interpreting what is unsaid in the manifold operations of culture.
Praise For Read My Desire: Lacan Against the Historicists (Radical Thinkers)…
"After Read My Desire, nothing in the domain of cultural studies will remain quite the same: cinema theory, feminism, philosophy, and psychoanalysis will have to relate to each other in an entirely new way. For the first time, an American author has taken Lacan seriously, relegating to well-deserved irrelevance the prevailing appropriation of the Lacanian theory by cultural studies. Far beyond political correctness, the book is theoretically correct: If it didn't exist, one would have to invent it!"
—Slavoj Žižek
Verso, 9781781688885, 288pp.
Publication Date: June 9, 2015
About the Author
Joan Copjec is Professor of Modern Culture and Media at Brown University. She has written or edited eleven books, including Supposing the Subject and Radical Evil.
or
Not Currently Available for Direct Purchase