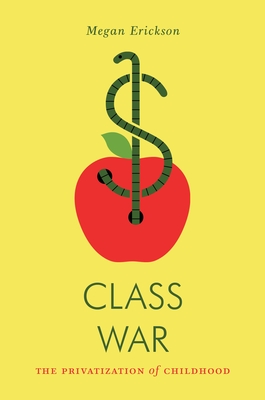 Class War
The Privatization of Childhood (Jacobin)
Paperback

* Individual store prices may vary.
Description
What America has at stake when some children go to school hungry and others ride in $1,000 strollers

In an age of austerity, elite corporate education reformers have found new ways to transfer the costs of raising children from the state to individual families. Public schools, tasked with providing education, childcare, job training, meals, and social services to low-income children, struggle with cutbacks. Meanwhile, private schools promise to nurture the minds and personalities of future professionals to the tune of $40,000 a year. As Class War reveals, this situation didn't happen by chance.

In the media, educational success is framed as a consequence of parental choices and natural abilities. In truth the wealthy are ever more able to secure advantages for their children, deepening the rifts between rich and poor. The longer these divisions persist, the worse the consequences.

Drawing on Erickson's own experience as a teacher in the New York City school system, Class War reveals how modern education has become the real "hunger games," stealing opportunity and hope from disadvantaged children for the benefit of the well-to-do.
Praise For Class War: The Privatization of Childhood (Jacobin)…
"Informed by her own experiences in the classroom, Erickson shares her outrage over the disparities between the haves and the rest with a clear-eyed analysis. A counterweight to 'reformers' whose anti-union, corporatization of education threatens the very tenets of our democratic society."
—Annette Fuentes, journalist and author of Lockdown High

"Megan Erickson knows the classroom is not a solvent for class society. But she remembers that it can be about something more than class reproduction. There may be no more trustworthy a guide to schooling in capitalist America than this book."
—Corey Robin, journalist and author of The Reactionary Mind and The History of a Political Idea

"Cogently written and with a far-ranging, sharp analysis. Anyone who wants to understand the relationship between educational inequality and the privatization of public education should read this book!"
—Wayne Au, editor of Rethinking Schools and author of Unequal By Design

"Megan Erickson deftly skewers neoliberal myths about education and child-rearing in this must-read book, which will be richly informative even to readers who are already critical of the status quo. Erickson is one of the most indispensable thinkers on this subject."
—Liza Featherstone, journalist and author of Selling Women Short and Students Against Sweatshops

"Class War is intentionally concise, getting straight to the point in four chapters that, though exhaustively sourced, make for a quick and accessible read. The book delves deep into the ideological underpinnings of the education system, delivering a critique that's relevant far beyond the school walls."
—Sarah Grey, Socialism and Democracy

"The author's extensive research makes for a compelling case and a must-read book."
—H.J. Bultinck, Northeastern Illinois University
Verso, 9781781689486, 240pp.
Publication Date: September 8, 2015
About the Author
Megan Erickson is an editor at Jacobin magazine and coordinator of early childhood and youth programs at the YMCA. She was formerly an editor and blogger at Big Think, and has taught in both public and private schools in New York City. She lives in Brooklyn.
or
Not Currently Available for Direct Purchase