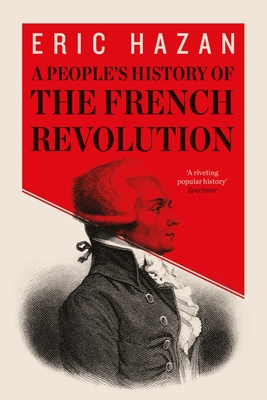 A People's History of the French Revolution (Paperback)
Verso, 9781781689844, 432pp.
Publication Date: January 31, 2017
Other Editions of This Title:
Hardcover (9/16/2014)
* Individual store prices may vary.
Description
A bold new history of the French Revolution from the standpoint of the peasants, workers, women and sans culottes
The assault on the Bastille, the Reign of Terror, Danton mocking his executioner, Robespierre dispensing a fearful justice, and the archetypal gadfly Marat—the events and figures of the French Revolution have exercised a hold on the historical imagination for more than 200 years. It has been a template for heroic insurrection and, to more conservative minds, a cautionary tale.

In the hands of Eric Hazan, author of The Invention of Paris, the revolution becomes a rational and pure struggle for emancipation. In this new history, the first significant account of the French Revolution in over twenty years, Hazan maintains that it fundamentally changed the Western world—for the better.

Looking at history from the bottom up, providing an account of working people and peasants, Hazan asks, how did they see their opportunities? What were they fighting for? What was the Terror and could it be justified? And how was the revolution stopped in its tracks? The People's History of the French Revolution is a vivid retelling of events, bringing them to life with a multitude of voices. Only in this way, by understanding the desires and demands of the lower classes, can the revolutionary bloodshed and the implacable will of a man such as Robespierre be truly understood.
About the Author
Eric Hazan is the founder of the publisher La Fabrique and the author of several books, including Notes on the Occupation and the highly acclaimed Invention of Paris. He has lived in Paris, France, all his life.
Praise For A People's History of the French Revolution…
"Amid the intellectual murkiness of the European scene, a few bright flames are burning: as witness the work of Eric Hazan."
—New Left Review

"Both an evocative narrative of a fascinating period and a passionate argument for the continued relevance of the revolution and its lessons."
—Irish Times

"A riveting popular history."
—Tobias Grey, Spectator

"A People's History of the French Revolution chronicles the 1789 upheaval in all its guillotine gore and popular fury … The combination of bottom-up testimony with quick authorial intelligence lends the history a vivid immediacy."
—Ian Thomson, Independent

"A vivid, lucid, informative, detailed account of the French Revolution."
—Reviews in History

"A luminous book … resurrecting, day by day, week by week, the essential moments of this singular epoch, where the most unbridled enthusiasm, tragedy, courage, treachery mingle together … an account capable of dispelling the boredom of previous conflicting accounts. With this book, with its multiple focal points and perspectives, which allow the clamor of the French Revolution to be heard … a new momentum is found."
—Marianne

"A story of the Revolution which vividly revives the chain of events, marking the rhythm of its episodes and their brutal accelerations, and the phases of calm which succeeded them."
—Sciences Humaines