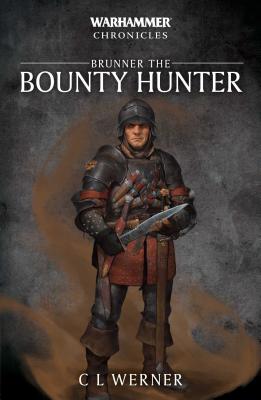 Warhammer Chronicles (Paperback)
Brunner the Bountyhunter
Games Workshop, 9781781939420, 848pp.
Publication Date: September 24, 2019
* Individual store prices may vary.
Description
In the Old World few are feared and hated as much as the bounty hunter. Brunner is one such man, a ruthless individual who will stop at nothing to catch his prey and claim his reward.

This is the dark saga of the ruthless bounty hunter who goes by the name of Brunner. Goblins, vampires, outlaws and even dragons - they're all fair game for this dark hero's blade. Across the length and breadth of the grim Warhammer Old World, Brunner plies his trade, tracking down and killing monsters. But he also faces challenges from within his own dubious profession as a rival hunter stakes a claim to his bounty.
About the Author
C L Werner's Black Library credits include the Age of Sigmar novels Overlords of the Iron Dragon and The Tainted Heart, the novella 'Scion of the Storm' in Hammers of Sigmar, the Warhammer novels Deathblade, Mathias Thulmann: Witch Hunter, Runefang and Brunner the Bounty Hunter, the Thanquol and Boneripper series and Time of Legends: The Black Plague series. For Warhammer 40,000 he has written the Space Marine Battles novel The Siege of Castellax. Currently living in the American south-west, he continues to write stories of mayhem and madness set in the Warhammer worlds.