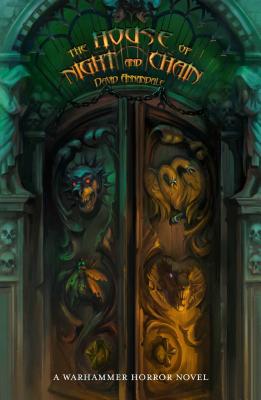 The House of Night and Chain (Warhammer Horror)
Paperback

* Individual store prices may vary.
Description
Another fantastically horrifying tale from Warhammer Horror. The nightmarish house Malveil awaits the return of an old heir, but what awaits him inside?

In a bleak corner of the city of Valgaast, the House of Malveil awaits. A place of darkness, its halls throb with a sinister history. Its rooms are filled with malice. Its walls echo with pain. Now it stirs eagerly with the approach of an old heir. Colonel Maeson Strock of the Astra Militarum has returned home to his ancestral mansion. He is a man broken, both by the horrors of war and by personal loss, and has come home to take up the mantle of Planetary Governor. He hopes he can purge his home world of political corruption and reforge connections with his estranged children. He hopes he can rebuild his life.

Malveil will feast on these dreams. Strock believes he has seen the worst of the galaxy's horrors.

Malveil will show him how wrong he is.
Games Workshop, 9781781939468, 288pp.
Publication Date: October 29, 2019
About the Author
David Annandale is the author of the novella The Faith and the Flesh, which features in the Warhammer Horror portmanteau The Wicked and the Damned. His work for the Horus Heresy range includes the novels Ruinstorm and The Damnation of Pythos, and the Primarchs novels Roboute Guilliman: Lord of Ultramar and Vulkan: Lord of Drakes. For Warhammer 40,000 he has written Warlord: Fury of the God-Machine, the Yarrick series, and several stories involving the Grey Knights, as well as titles for The Beast Arises and the Space Marine Battles series. For Warhammer Age of Sigmar he has written Neferata: Mortarch of Blood. David lectures at a Canadian university, on subjects ranging from English literature to horror films and video games.
or
Not Currently Available for Direct Purchase