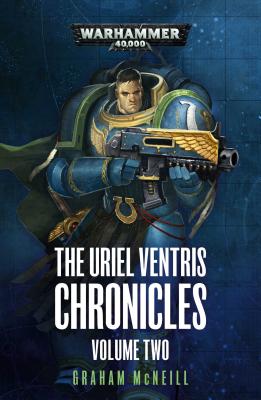 The Uriel Ventris Chronicles
Volume Two (Warhammer 40,000)
Paperback

* Individual store prices may vary.
Other Editions of This Title:
Paperback (1/8/2019)
Description
The second omnibus of stories featuring one of Warhammer 40,000's most prominent characters, Ultramarine Captain Uriel Ventris.

The Ultramarines are the epitome of a Space Marine Chapter. Warriors without peer, their name is a byword for discipline and honour, and their heroic deeds are legendary.

Captain Uriel Ventris fights to prove his worth and return to the hallowed ranks of the Chapter after his exile to the Eye of Terror. But as the Iron Warriors move against Ultramar, a grim premonition comes to light: Ventris will have a part to play in the coming war... for good or ill. The ongoing story of the Uriel Ventris continues in this omnibus edition, featuring the novels The Killing Ground, Courage and Honour and The Chapter's Due, as well as several short stories and the classic comin 'Black Bone Road'.
Games Workshop, 9781781939567, 848pp.
Publication Date: August 20, 2019
About the Author
Graham McNeill has written many Horus Heresy novels, including The Crimson King, Vengeful Spirit and his New York Times bestsellers A Thousand Sons and the novella The Reflection Crack'd, which featured in The Primarchs anthology. Graham's Ultramarines series, featuring Captain Uriel Ventris, is now six novels long, and has close links to his Iron Warriors stories, the novel Storm of Iron being a perennial favourite with Black Library fans. He has also written the Forges of Mars trilogy, featuring the Adeptus Mechanicus. For Warhammer, he has written the Warhammer Chronicles trilogy The Legend of Sigmar, the second volume of which won the 2010 David Gemmell Legend Award.