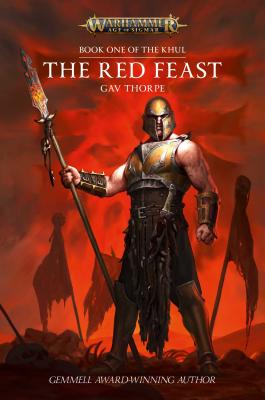 The Red Feast (Warhammer
Age of Sigmar #1)
Paperback

* Individual store prices may vary.
Description
On the Flamescar Plateau, a time of peace and prosperity is threatened by a distant sorcerous power. Can Athol Khul bring the tribes together to keep the peace, or will war claim them all – and destroy their future?

The coming of the God-King Sigmar has brought relative peace and prosperity to the Great Parch. Yet across the sun-drenched plains of the Flamescar Plateau the passions of the tribes are intemperate and generations of loyalty to the Hammer-God cannot wholly erase their warlike past and bloodthirsty traditions.

Among them live the Khul, outsiders allied to the mighty Aridians through shared blades. Athol Khul is the spear-carrier, the bridge between these peoples, and to him falls a near-impossible task when a distant sorcerous power threatens the alliance.

With the lives of his family and people hanging in the balance, Athol must secure whatever companions and powers he can to aid in the coming war. In doing so, he starts upon a path that will lead to glory and ruin in equal measure.
Games Workshop, 9781781939666, 320pp.
Publication Date: October 29, 2019
About the Author
Gav Thorpe is the author of the Horus Heresy novels Deliverance Lost, Angels of Caliban and Corax, as well as the novella The Lion, which formed part of the New York Times bestselling collection The Primarchs, and several audio dramas. He has written many novels for Warhammer 40,000, including Ashes of Prospero, Imperator: Wrath of the Omnissiah and the Rise of the Ynnari novels Ghost Warrior and Wild Rider. He also wrote the Path of the Eldar and Legacy of Caliban trilogies, and two volumes in The Beast Arises series. For Warhammer, Gav has penned the End Times novel The Curse of Khaine, the Warhammer Chronicles omnibus The Sundering, and recently penned the Age of Sigmar novel The Red Feast. In 2017, Gav won the David Gemmell Legend Award for his Age of Sigmar novel Warbeast. He lives and works in Nottingham.
or
Not Currently Available for Direct Purchase