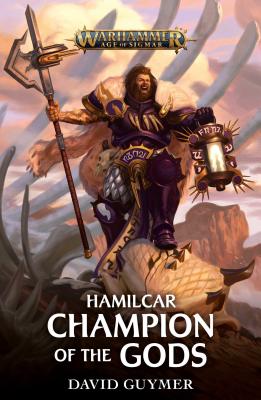 Hamilcar (Paperback)
Champion of the Gods (Warhammer: Age of Sigmar)
Games Workshop, 9781781939857, 400pp.
Publication Date: August 20, 2019
* Individual store prices may vary.
Description
There are few heroes so mighty as Hamilcar Bear-Eater – but when an ancient skaven warlock with a thirst for godhood seeks Hamilcar's immortal soul, will his martial prowess and uncanny skill be enough to ensure survival?

Throughout Sigmar's centuries-long crusade against Chaos in the Mortal Realms, there has never been a hero like Hamilcar Bear-Eater, famed Lord-Castellant of the Astral Templars.

Would Gardus have charged headlong into the stronghold of Uxor Untamed with a mere handful of warrior at his back? No. Would Vandus have had the foresight or magnetism to drink himself euphoric, start a war with the Skarabrak lodge, and then wake come morning to a sore head and fifty thousand moonclan berserkers avowed to Sigmar's cause?
No, no and no.

Only Hamilcar.

But when an ancient skaven warlock with a thirst for godhood turns his attention towards Hamilcar's divine soul, the Bear-Eater knows he will have to call upon his martial prowess and uncanny wits just to survive. Because his next death could be his last.
About the Author
David Guymer wrote the Primarchs novel Ferrus Manus: Gorgon of Medusa, and for Warhammer 40,000 The Eye of Medusa, The Voice of Mars and the two The Beast Arises novels Echoes of the Long War and The Last Son of Dorn. For Warhammer Age of Sigmar he wrote the novel Hamilcar: Champion of the Gods, the audio dramas The Beasts of Cartha, Fist of Mork, Fist of Gork, Great Red and Only the Faithful. He is also the author of the Gotrek & Felix novels Slayer, Kinslayer and City of the Damned and the Gotrek audio drama Realmslayer. He is a freelance writer and occasional scientist based in the East Riding, and was a finalist in the 2014 David Gemmell Awards for his novel Headtaker.