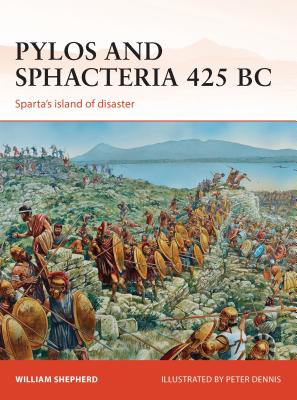 Pylos and Sphacteria 425 BC: Sparta's Island of Disaster (Paperback)
Sparta's Island of Disaster
Osprey Publishing (UK), 9781782002710, 96pp.
Publication Date: December 24, 2013
* Individual store prices may vary.
or
Not Currently Available for Direct Purchase
Description
In the seventh year of the Second Peloponnesian or 'Archidamian' War the Athenians occupied the promontory of Pylos on the west coast of the Peloponnese as a counterstroke to Sparta's repeated invasions of Attica. Over two days of fighting the small garrison beat off the Spartan army and fleet's determined efforts to dislodge it, and then the returning Athenian fleet won a crushing victory in the nearby waters of what is now known as Navarino Bay. As a consequence, a contingent of elite Spartan hoplites was stranded on the island of Sphacteria in the bay just to the south of Pylos for several weeks of inconclusive siege and blockade operations and an unproductive period of truce. The Athenians had full control of the sea. With the campaigning season drawing to a close, they finally decided to mount an attack on the island using unconventional tactics. An amphibious night attack overran the Spartan outpost covering the beaches and light-armed missile troops landed at daybreak in overwhelming numbers. The Spartans were slowly driven back to their stronghold at the tip of the island, losing men steadily and never allowed to engage in the hand-to-hand fighting at which they excelled. They held their final defensive line for a while until, as at Thermopylae, they found themselves also under attack from the rear. Then, exhausted and out of water, with their commander dead and his deputy incapacitated by wounds, and a large Spartan army close-by on the mainland but powerless to help them, the 292 survivors surrendered. This was a huge and surprising blow to the Spartans' glorious and fearsome reputation, and these prestigious prisoners-of-war served the Athenians very well as bargaining counters in the diplomatic activity that punctuated the hostilities that continued for the next four years. The Athenian victory also influenced the future conduct of the war by highlighting the limitations of the traditional hoplite mindset and tactics, and the battle-winning potential of light-armed troops, the hoplites' inferiors.
About the Author
William Shepherd studied classics at Clare College, Cambridge, in the 1960s and then embarked on a career in publishing, which finally brought him to Osprey, retiring from the position of chief executive in 2007. He is author of The Persian War (Cambridge, 1982), translated from Herodotus. He has also written reading books for children and articles in the Osprey Military Journal, of which he was joint editor, and makes regular contributions to the Osprey blog. He lives in the Cherwell Valley, north of Oxford. The author lives in Cherwell Valley, UK.
Advertisement