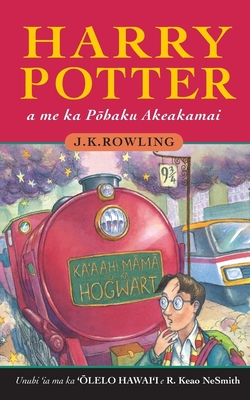 Harry Potter a me ka Pōhaku Akeakamai (Paperback)
Harry Potter and the Philosopher's Stone in Hawaiian
Evertype, 9781782012061, 324pp.
Publication Date: August 1, 2018
* Individual store prices may vary.
Description
'A'ole i lohe 'o HARRY POTTER no ke Kula Hogwart i ke kau 'ana mai o nā LEKA ma ka moena 'īpuka o mua o ka hale ma ka helu 'ehā, Alanui Pilikino. Na kona 'anakala me kona 'anakē 'a'aka loa i kā'ili koke i nā leka i kākau 'ia ai me ka 'īnika 'ŌMA'OMA'O ma luna o ka 'ili palapala LENALENA me ka uepa PONI. A laila, ma ka lā hānau piha 'umi kumamākahi makahiki o Harry, 'ō'ili maila kekahi PILIKUA me ka lauoho pūkalakī loa i kapa 'ia 'o RUBEUS HAGRID me ka pahū ikaika a halihali maila 'o ia i kekahi lono KUPAIANAHA. He kahuna ho'okalakupua 'o Harry Potter a he wahi nō kona ma KE KULA HOGWART NO KA 'OIHANA HO'OKALAKUPUA. 'O ka ho'omaka mai nō koe o kekahi hua­ka'i ho'okāhāhā
HARRY POTTER doesn't know the first thing about Hogwarts when the LETTERS start dropping onto the doormat at number four, Privet Drive. The letters, written in GREEN ink on YELLOW parchment with a PURPLE seal, are taken off him by his AWFUL aunt and GRUMPY uncle. Then, on Harry's eleventh birthday, a great GIANT with curly hair called RUBEUS HAGRID barges into his life with some ASTOUNDING news: Harry Potter is a wizard, and he has a place at HOGWARTS SCHOOL OF WITCHCRAFT AND WIZARDRY.