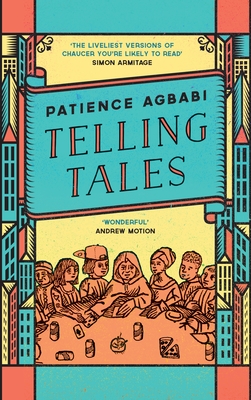 Telling Tales
Paperback

* Individual store prices may vary.
Other Editions of This Title:
Hardcover (5/1/2015)
Description
SHORTLISTED FOR THE TED HUGHES PRIZE 2015

Tabard Inn to Canterb'ry Cathedral,
Poet pilgrims competing for free picks,
Chaucer Tales, track by track, it's the remix
From below-the-belt base to the topnotch;
I won't stop all the clocks with a stopwatch
when the tales overrun, run offensive,
or run clean out of steam, they're authentic
and we're keeping it real, reminisce this:
Chaucer Tales were an unfinished business.

In Telling Tales award-winning poet Patience Agbabi presents an inspired 21st-Century remix of Chaucer's Canterbury Tales retelling all of the stories, from the Miller's Tale to the Wife of Bath's in her own critically acclaimed poetic style.
Celebrating Chaucer's Middle-English masterwork for its performance element as well as its poetry and pilgrims, Agbabi's newest collection is utterly unique. Boisterous, funky, foul-mouthed, sublimely lyrical and bursting at the seams, Telling Tales takes one of Britain's most significant works of literature and gives it thrilling new life.
Canongate Books, 9781782111573, 144pp.
Publication Date: April 16, 2015
About the Author
Patience Agbabi was born in London in 1965 and educated at Oxford and Sussex Universities. She has performed her poetry live, on TV and radio all over the world. Her work has also appeared on the London Underground and human skin. She has lectured in Creative Writing at several UK universities, including Greenwich, Cardiff and Kent, and is currently Fellow in Creative Writing at Oxford Brookes University. She was Canterbury Laureate from 2009 to 2010. Telling Tales is her fourth poetry collection. She lives in Kent with her husband and two children.