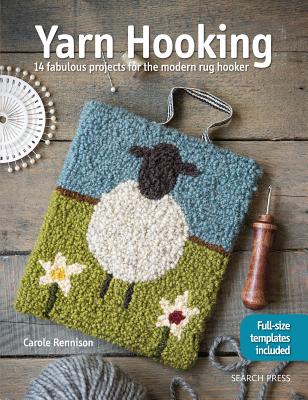 Yarn Hooking
14 Fabulous Projects for The Modern Rug Hooker
Paperback

* Individual store prices may vary.
Description
15 colorful, whimsical rug hooking projects, complete with traceable outlines and full-color charts

With a friendly new approach to an age-old craft, this book offers 15 colorful, whimsical designs for bags, pillows, pictures and gifts, as well as rugs. Inspired by folk art and primitive art, Carole Rennison shows how easy rug hooking is, providing hooking tips and advice on how to choose the right backing (hessian/burlap), wool yarn, bindings and equipment. She also demonstrates how to plan and develop ideas, how to choose the right colours and how to complete the designs with a professional finish.

The book includes a thorough techniques section that shows step by step how to prepare to hook, how to use the hooking technique and how to finish off your work. The 15 projects range from simple to more complex, appealing to those new to this craft and to more experienced hookers. Each project comes with a traceable outline, a full-color chart to follow and plenty of sumptuous and inspiring photography.

A folded 13-1/4 x 37-1/2in pattern template sheet, is included at the back of the book.
Praise For Yarn Hooking: 14 Fabulous Projects for The Modern Rug Hooker…
Booklist May 2019

For crafters who want to expand their yarn-based know-how, Rennison offers inspiration and, perhaps, anew craft to try. Rug hooking, which consists of pulling yarn (often wool) in loops through a fabric, is an older, folk-art cousin to latch hooking, and Rennision takes care to set up the reader with clear instructions and informative, beautiful four-color photos. She dedicates the first third of the book to materials,techniques from starting to finishing, and—always useful to crafters working with yarn—possible substitutions and helpful quick tips. Readers would be wise to start from the beginning, as the introductorysection offers American English translations of the British English terms used throughout the book. The projects range from wearable pins to a pillow to a Christmas stocking, and Rennison provides enough guidance and background for adventurous rug hookers to create their own designs. Crafters looking for anew, folk-art influenced project will find inspiration to sink their hook into here.— Mary Kravenas
Search Press, 9781782215332, 96pp.
Publication Date: March 12, 2019
About the Author
Carole Rennison is a yarnaholic and she got completely hooked on the hooking technique after seeing a demonstration at a local craft show. Family and friends soon started asking her for kits, and in 1993 she started her successful company Hooked by Design. She also loves knitting and crochet, and runs a Knit and Natter group in her home town of Skipton. It was here that the idea was born to launch Yarndale, an annual show and festival that now attracts an international audience, with over 160 stands dedicated to all things woolly. Carole is one of the five founders and organisers of this successful show.