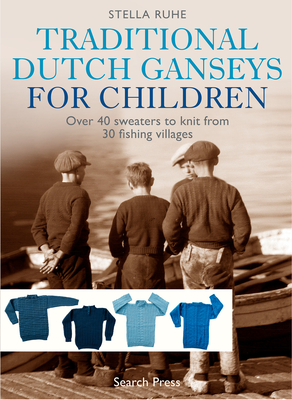 Traditional Dutch Ganseys for Children
Over 40 sweaters to knit from 30 fishing villages
Hardcover

* Individual store prices may vary.
Description
Over 40 adaptable sweaters to knit for your littles ones, based on the classic, minimal and quietly stunning jumpers of Dutch fishermen.

Based on the original designs shared by families and discovered in archives, Stella has created recreations of these historically important garments for our contemporary life that ooze classic style with modern minimalism. With these designs, you are offered not only a chance to pay homage to the women who lovingly knitted the jumpers and to share in a beautiful Dutch tradition, but also give something for your child to treasure for years to come.

The sizes of the ganseys run from 2- to 14-years old, but can easily be adjusted to any child's size by following Stella's straightforward measuring instructions in her chapter on knitting know-how. With a wealth of fascinating background information and historical photos of the original designs alongside every design, this is a unique and inspiring book for the ambitious knitter looking for unique, classic knitwear, and a brilliant read for anyone interested in craft, culture and heritage.

Between approximately 1875 and 1950, Dutch fishermen wore sweaters with characteristic knit and purl stitch patterns, sometimes cable. These jerseys, known as ganseys, became an intrinsic part of the identity of the Dutchmen who wore them. Many of the children in these fishing families wore ganseys too, and numerous photos have been discovered in recent years of schoolchildren dressed in the knitwear seen on their fishermen fathers.

Now, based on her popular Dutch Traditional Ganseys (2013) and More Traditional Dutch Ganseys (2017), Stella Ruhe returns with over 40 sweaters to knit from 30 different Dutch villages - this time, for your little ones to wear and ramble in.
Praise For Traditional Dutch Ganseys for Children: Over 40 sweaters to knit from 30 fishing villages…
Postcard Reviews - July 13, 2020

Over 40 sweaters for boys and girls are included in this very interesting book.
Not only does this book give you several designs to knit, it also includes the history of the 'gansey' and the villages but also an insight of child labour, education and the life pre 1900.
The traditional gansey is knitted with no seam, so double pointed needles will be needed. The amount of yarn needed depends on the size of the garment. The sweater sizes range in age from 1 to 14 years.
The patterns are stunning, and all centered on the sea, boats and fishing. The  modern photography alongside old photographs bring to life the days of then and the children of today. They merge together beautifully.
The history of fishermen was most interesting, their way of life was hard and the small children on board the fisher boats had life even harder.
A lot of research has gone into this book and it is a brilliant and intriguing read as well as a fabulous project book for knitters.
5/5
Search Press, 9781782217527, 144pp.
Publication Date: July 21, 2020
About the Author
Stella Ruhe taught visual arts in the AVO, is a publisher/editor at the publishing house Cantecleer (known for the series Textielvaardig and countless books specialising in textiles) and is faculty supervisor and co-developer of learning content and teaching methodology in the department of visual arts at a number of national educational centres. Stella Ruhe has hosted major events such as the Cantecleer Fashion Prize and the Week of Creativity, and is author of the popular Dutch Traditional Ganseys and More Traditional Dutch Ganseys.