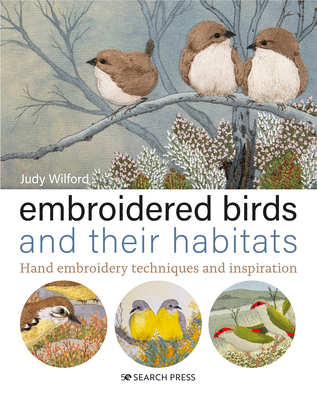 Embroidered Birds and their Habitats
Hardcover

* Individual store prices may vary.
Description
A stunning, high-level embroidery book on birds, by Judy Wilford, one the world's leading embroiderers.

This stunning new title from master embroiderer Judy Wilford explores fascination with birds and the ways they interact with their surroundings. Through research she turned her collection of rough sketches and notes into drawings and finally the beautiful embroideries featured in the book.

The book is divided into three parts, working through the simplest to the more intricate or complicated forms of the subject. Each piece of work is divided into two areas and includes those elements applied to the rigid frame, to form the background or 'on-frame work', and those stitched 'off-frame' on a hoop and applied later.

Part 1 covers the basic requirements of what you need, including design requirements, embroidery materials - fabrics, needles and threads - equipment, rigid frames, and your work space. It also includes a section on research and choosing a suitable bird and its habitat, concluding with a project that guides the reader through the entire process from inspiration through to working design, giving all the skills and techniques needed to complete a hand-stitched, low-relief panel based on birds and habitats. Part 2 explores processes and techniques used in designing and working more complicated elements. This project includes elements embroidered 'off-frame' and applied to the work, such as tree trunks, branches, birds' nests and, of course, the birds. Part 3 includes further examples of the author's embroideries, and drawn designs that could be used in future works. This section also includes information on finishing the work (mounting and framing), a stitch glossary, reference section and acknowledgements.

Though Judy's focus is on Australian birds, the embroideries themselves will appeal to an international audience, and the processes and techniques she uses can be adapted and used by textile artists and embroiderers for a broad range of subjects.
Search Press, 9781782217664, 128pp.
Publication Date: January 18, 2022
About the Author
Judy works with the mediums of fabric and thread and the many and varied techniques of hand embroidery. Her unique embroideries draw on years of personal study and practice in design, drawing, painting, print-making, clay and object making but it is the flexibility and technical variety inherent in textiles, in particular hand embroidery, that has and will continue to fascinate her.

Judy is a well-regarded tutor throughout Australia and New Zealand at Textile Forums and McGregor Schools (University of Southern Queensland) tutoring her developed techniques revolving around birds and their habitats, the wider landscape and narrative works. She won the 2013 National Australian Society of Miniature Arts Awards for Mixed Media and the 2012 Yvonne Perring Memorial Award for best use of Traditional Techniques.
She has written articles for various magazines and books, such as Masterworks and Inspirations, as well as having her book 'Embroidered Landscapes' published by Sally Milner.