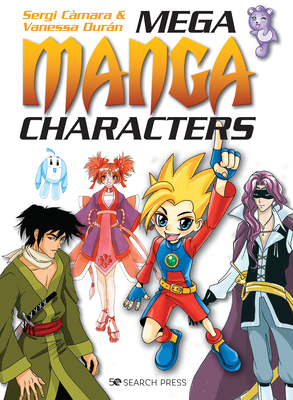 Mega Manga Characters (Paperback)
Search Press, 9781782219170, 128pp.
Publication Date: November 24, 2020
* Individual store prices may vary.
Description
Learn how to draw the main genres of manga characters from scratch with this fantastic guide.

Do you want to learn how to draw manga characters from scratch? Then look no further! Aimed specifically at beginners, this book includes examples from the main genres of manga characters and will teach you how to draw different characters in distinct poses. Starting with simple exercises and gradually getting more complicated, there are sections covering Kodomo (child), Shonen (teenage boy), Shojo (teenage girl) and Seinen (youth) characters to practise.

To help you along the way, there are clear step-by-step instructions, with 10 exercises for each genre (except kodomo). Friendly chibis also pop up every so often to offer tips and advice to keep in mind while you are drawing. Extensive advice on finishing techniques ranges from colouring by computer, using pen and ink, paintbrush, felt-tip pen and pencils, both in black and white and colour.

For the best start to your manga-drawing journey, this book will inspire you to explore and improve your skills.
About the Author
Sergi Càmara is a Catalan author, writer, illustrator, photographer and cartoon movie producer. In 1987 he created his own company, Studio Camara, where he develops his work as a producer, screenwriter, project creator and animator. Studio Camara has cooperated on many productions for TV and film.

As a lover and student of any content media, graphic, written or audiovisual, his interest in Manga and Animé have resulted in the publication of a number of books on the subject. He is currently working on new animation projects and as writer and illustrator for various publishing companies in Spain, the UK and the US.

Vanessa Durán has worked as an illustrator and cartoon author on a large number of books on manga drawing. Based in Spain, she has a degree in Design. She won the first prize in Content Manga Norma Editorial in 1995.