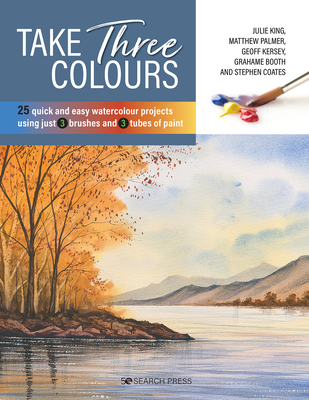 Take Three Colours
25 Quick and Easy Watercolours Using 3 Brushes and 3 Tubes of Paint
Paperback

* Individual store prices may vary.
Description
Learn to paint 25 stunning watercolours using only three colours and only three brushes each time. Learn to paint colourful watercolours using only three colours in this collection of projects, tips and techniques from the innovative Take Three Colours... series. Each of the twenty-five projects explores a variety of watercolour techniques and walks the reader through a sequence of clear steps using a selection of three pure colours and their many mixes, and only three brushes to complete the work. Guidelines are also provided to show the reader how to trace off the outline for each scene, and how to get the most out of their mixes for an impactful painting.
Search Press, 9781782219828, 352pp.
Publication Date: December 7, 2021
About the Author
Grahame Booth tutors workshops and holiday courses around the world. He is the author of Ready to Paint in 30 Minutes: Street Scenes (Search Press, 2017), The Paint Pad Artist: Watercolour Landscapes (Search Press, 2018), and he is a contributing author to Artist's Painting Techniques (DK, 2016). To see more of Grahame's work visit www.grahamebooth.com. Stephen Coates was born in Sheffield in 1960. Son of a draughtsman, he was introduced to drawing at a very young age. Largely self taught, Stephen Coates specialised in watercolours and over a period of around twenty years, developed his own style and unique brand of teaching in his spare time. Geoff Kersey is an experienced watercolourist and is much in demand as a teacher and demonstrator. He lives and works in Derbyshire, where he has a studio, and he exhibits extensively. He has made many watercolour DVDs, contributes to various art publications and has written many best-selling watercolour books. He now runs highly successful online tutorials via his website www.watercolourlandscapes.co.ukMatthew Palmer is a renowned demonstrator of watercolour painting, and his classes are particularly popular with beginners. He has been painting professionally for over 20 years and specializes in landscapes, still life and animals. He has many personal exhibitions, participates in several art shows and appears regularly on television as well as on his own internet-based art show at www.watercolour.tvJulie King lives in Kent. She was brought up in March in Cambridgeshire where she attended Cambridge College of Arts and Technology to pursue a Foundation in Art, followed by a degree in Printed Textile design, at Trent Polytechnic Nottingham achieving a First class (Hons). Julie is a regular contributor to the Leisure Painter magazine, and has written a number of art books.
or
Not Currently Available for Direct Purchase