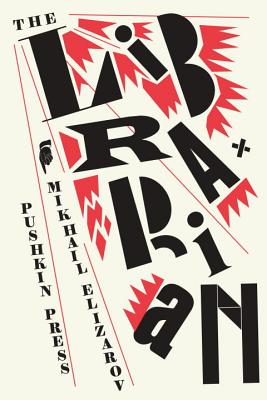 The Librarian (Paperback)
Pushkin Press, 9781782270270, 416pp.
Publication Date: February 10, 2015
* Individual store prices may vary.
Description
If Ryu Murakami had written War and Peace

As the introduction to this book will tell you, the books by Gromov, obscure and long forgotten propaganda author of the Soviet era, have such an effect on their readers that they suddenly enjoy supernatural powers. Understandably, their readers need to keep accessing these books at all cost and gather into groups around book-bearers, or, as they're called, librarians. Alexei, until now a loser, comes to collect an uncle's inheritance and unexpectedly becomes a librarian. He tells his extraordinary, unbelievable story.
About the Author
Mikhaïl Elizarov, born 1973 in the Ukraine, studied philology and film direction in Kharkov and worked as a cameraman in the '90s. He then moved to Hanover, Germany to study cinema. In 2001, his first novel Fingernails caught the attention of the media and was shortlisted for the Andrei Bely Prize, and his fourth novel The Librarian was awarded the 2008 Russian Booker Prize. Mikhail Elizarov has also written short stories and essays, and contributes to the Frankfurter Allgemeine Zeitung and magazines including GQ and Playboy. He currently lives in Germany.
Praise For The Librarian…
"Elizarov's novel, winner of the 2008 Russian Booker Prize, is a satire about the absurdity of blind faith and the way people fool themselves into believing in systems in which they are forced to inhabit… this chaotic tale puts a magical twist on its satire." --Publishers Weekly
"[A] brilliant winner of the Russian Booker Prize.... Immensely entertaining, The Librarian lives up to comparisons to the work of Gogol and Bulgakov while being very much its own thing." — Jeff VanderMeer, Slate

"The Librarian reads like cold fire, full of Russian stoicism, honor and intense formality, but the rhythm of the words is hypnotic." —Luke Goldstein, Blogcritics

"By turns absurdist, satirical, and downright funny: The Librarian takes a page from every book. . . The Librarian is original, delightfully weird and dark, and so frequently funny, this book will have no problem conscripting new English readers." — Asymptote

"Powerful, disturbing, and at the same time, uplifting." — Vzgliad

"A truly bright author and an ingenious writer." — Vladimir Sorokin, author of Ice Trilogy and Day of the Oprichnik

"The most radical of Russian Booker winners." — Snob.ru

"Elizarov is an heir to the classic Russian writers." — Prochtenie.ru

"Uncompromising, bizarre and desperate." — Gazeta.ru

"How words can be more dangerous than machine-guns." — Proza.ru

"A world of myths... and a requiem for a broken country." — Questions of Literature
or
Not Currently Available for Direct Purchase